"Dramatic decline" in growth of independent shops
Women's clothing stores worst hit
Factors include high street anchor retailers moving to retail parks, cutting footfall
The UK has seen a "dramatic decline" in the growth of independent shops with women's clothing stores taking the greatest hit.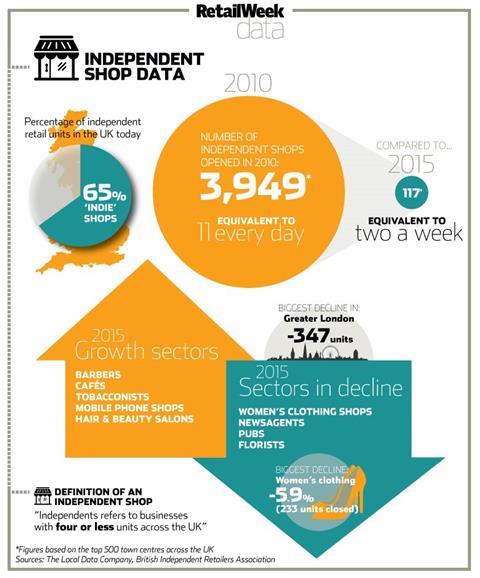 The total number of independent shops in Britain's top 500 town centres increased by only 117 units in 2015, compared with a growth of 3,949 stores in 2010, according to a report by the Local Data Company (LDC) and British Independent Retailers Association (bira).
On average two indie stores opened per week last year, compared with 11 openings a week in 2010.
The number of independent women's clothing stores fell by 233 units in 2015 – a total reduction of 5.9%.
LDC director Matthew Hopkinson said a major factor in the decline is the move of many high street anchor retailers, such as Next, Marks & Spencer and River Island, to out-of-town retail parks.
"These moves result in lower footfall volumes as people follow them out of town, which has a big impact for the smaller retailers left behind."
The data, presented today at LDC's 5th Retail Trends Summit, showed that independents now account for 65% of all retail and leisure units in Great Britain, showing a 1% decline since 2014 with the greatest decline occurring in Greater London.
Deputy chief executive of bira Michael Weedon said: "Within the figures we see a powerful rebalancing away from product based retail towards service providers, leisure operators and convenience operators.
"Very gradually we are seeing a new high street emerge as commerce adapts to ever-changing conditions."
Independent refers to businesses with four or less units across Great Britain. Chain retailers have continued to decline with a net loss of 1,147 shops in 2015.