As we enter the most crucial month of the year for businesses across the UK, retailers will be aiming to capture their fair share of Christmas spend. 
But do they know which consumer groups to target and how they can woo them into stores?
The PwC Christmas Consumer Report has revealed that the average UK adult expects to spend £280 on gifts this Christmas, with women typically spending £26.30 more than men.
And retailers' approaches to discounting and returns policies during the festive season could also play a crucial role if they are to claim their slice of the lucrative Christmas pudding.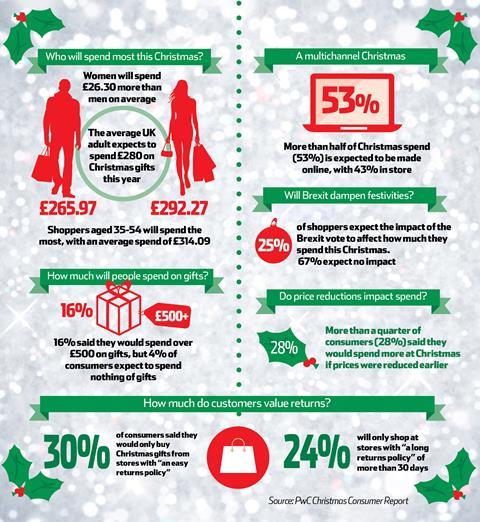 PwC's retail and consumer lead Madeleine Thomson said: "We've seen UK consumers respond robustly to this year's political uncertainty and sterling weakness, as evidenced by the post-referendum retail sales figures.
"Our survey results underline this resilience, with 67% of UK consumers expecting the results of the referendum to have no impact on their Christmas spending and the average adult expecting to spend around £280 on Christmas gifts this year."
Despite the positive noises coming from the 2,000 consumers surveyed, PwC has predicted that UK growth will slow to around 1.2% in 2017, largely due to a drag on investment from increased political and economic uncertainty following the shock Brexit vote.
It has also forecast a rise in inflation to around 2.7% by the end of next year as the slump in sterling increases sourcing costs for retailers and pushes up shelf prices.