Growth in Halloween spending will slow this year as consumers splash less cash on home decorations and entertainment.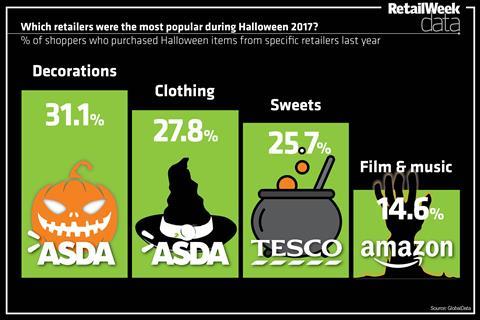 Overall spend on seasonal products will climb 1.7% to £481m this year, according to forecasts from GlobalData.
That compares to growth of 4.3% in 2015 and 2.6% last year.
This year's increase will be spearheaded by spending on clothing, which will jump 3.1% to £166m.
Grocery retailers are also set to benefit from a 2.9% uplift in spending on food, including trick or treat sweets and pumpkins, to £140m.
But spending on entertainment is forecast to fall 1% to £76m, while the Halloween decorations market will slip 0.3% to £99m.
GlobalData's research highlighted Asda, Tesco and Amazon as the winners from Halloween last year.
Asda's ties with US retail titan Walmart helped it attract almost a third of shoppers, with 31.1% saying they purchased Halloween decorations from the grocer last year.
A further 27.8% of consumers wanting Halloween clothing also made purchases at Asda.
Tesco was the top destination for sweets, as 25.7% of all shoppers snapped up Halloween-related treats from the supermarket giant, while 14.6% of consumers made film and music purchases through Amazon.