Retail Week Prospect ranks the 10 most productive retailers in the UK in terms of staff costs.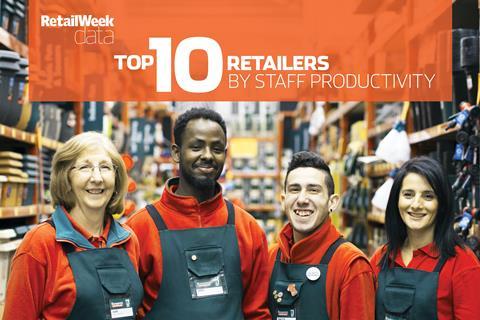 | Rank | Retailer | Score |
| --- | --- | --- |
| 1 | Aldi (UK and RoI) | 7.4 |
| = | Shop Direct | 7.4 |
| 3 | Asos | 7.8 |
| 4 | Wiggle | 8.4 |
| 5 | Chain Reaction Cycles | 9.2 |
| = | Game Digital | 9.2 |
| = | Jessops | 9.2 |
| = | MandM Direct | 9.2 |
| 9 | Argos | 9.4 |
| 10 | Missguided | 9.5 |
Staff productivity is a hot topic in retail and one of the ways it can be judged is through the staff costs to sales ratio.
This measure states a retailer's overall employment costs as a percentage of sales – the implication being that the lower the figure is, the more efficient a workforce is in terms of cost.
Having compiled employment data from the 150 largest retailers in the UK, Aldi and Shop Direct top this year's listing.
Grocers rank highly
It may come as no surprise to see that Aldi features so highly in this list with a ratio of 7.4%.
The discounter is well-known for its obsessive control over its costs as well as prices. Its operations are geared towards keeping staff numbers to a minimum, for instance through its easy replenishment merchandising methods. Legendary fast check-out also helps.
But food retailers in general are among the most efficient operators – both Iceland and Sainsbury's are just outside the top 10 this year with ratios of around 10%.
Aldi's fellow discounter Lidl does not file accounts for the UK market and has therefore not been included in this research, but is also thought to be at the lower end of the scale.
Online retailers are at an advantage
Shop Direct shares first place with Aldi this year, and Asos is just behind in third place.
Online retailers have an advantage over their bricks-and-mortar counterparts because they do not have stores that require staffing. However, Shop Direct has also benefited from its decision to outsource its call centres in 2012.
Both Wiggle and Chain Reaction Cycles are also among the top five. The two online cycling retailers, which merged in early 2016, generate very high average transaction values that help boost their employment costs to sales ratios.
Jessops and Game
Among the top 10 are Jessops and Game Digital – two retailers that collapsed into administration several years ago.
That process has allowed them to become much leaner organisations, with smaller store networks to reflect current multichannel trends.
Average stands at 16%
To put the above figures into context, the average staff costs to sales ratio for all 150 retailers in this research is 16%.
It is typically the more service-oriented businesses such as John Lewis, Harvey Nichols and Fortnum & Mason that have the highest ratios, typically in excess of 22%.
Lush and Hotel Chocolat had the highest ratio among all 150 retailers, but both retailers manufacture a large proportion of their offer and employ non-retail staff, which skews the figures.
Methodology
The figures are based on the latest set of accounts available in May 2016. Where possible, figures relating to the UK market have been used for international retailers.