Consumer spending increased 2.4% in September, according to Visa
Online purchases jumped 6%, but face-to-face sales edged up just 0.1%
Leisure had more of an uplift than retail as consumers splurged on meals out, holidays
Spending on food, beverages and tobacco rose 2.3%. Household goods up 2.3%
Consumer spending bounced back last month, driven by online transactions, but UK households splashed more cash on leisure than retail.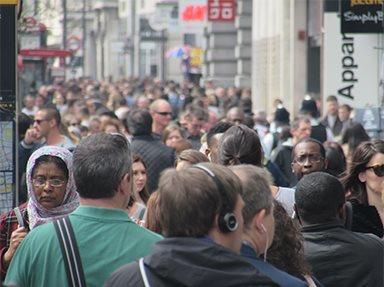 New figures reveal that September saw a "welcome pick-up" in the growth of household expenditure, as spending rose 2.4% during the month compared with the previous year.
According to Visa's UK Consumer Spending Index, the increase in spending was driven by online purchases, which jumped 6%. Face-to-face transactions remained broadly flat, edging up 0.1%.
The boost in spending came following a lacklustre August, when spending inched up just 0.1% year-on-year – the worst performance in nearly three years, Visa said.
But much of September's spending spree found its way into the leisure industry rather than being spent at retailers.
Recreation and culture
Growth was led in the recreation and culture sector, which benefited from a 6.8% uplift in consumer spending, while hotels, restaurants and bars enjoyed a 6% spike as householders spent their disposable income by treating themselves to meals out, family holidays and theatre trips.
Spending on health and education grew 1.5%, while the amount spent on miscellaneous goods and services, such as hairdressing, advanced 1.8%.
Retailers benefited less from the boost in spending, although food, beverages and tobacco posted a 2.3% increase, while household goods also saw sales rise 2.3%.
But the troubled fashion sector continued to struggle, with the clothing and footwear sector being one of just two categories to report falling sales during September, following a 1.3% decline.
Transport and communication also posted a sales fall, as spending in the sector dropped 2.4%.
Visa UK and Ireland managing director Kevin Jenkins warned it was "too early to say" whether September's spending will prompt positive signs to "return more permanently" to the UK economy.
He added: "Economic concerns took something of a backseat in September, with consumers reverting to more traditional spending patterns as they took advantage of the last of the summer sun.
"Growth was once again driven by the experience economy, as people spent more on meals out, family holidays and trips to the theatre. On the other hand, clothing and footwear suffered another fall in sales, with little evidence of the back-to-school ranges providing any significant boost."