Britain's high streets fought back against retail parks and shopping centres over the weekend as seaside visitors boosted footfall.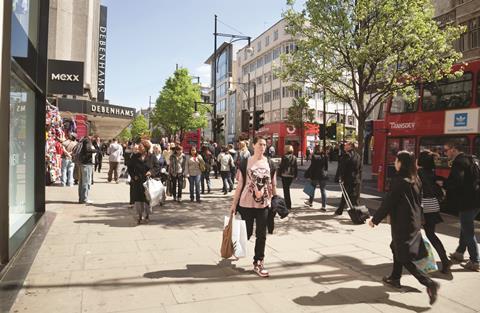 Seaside visitors boost high street footfall 4.4%
Footfall drops at retail parks and shopping centres
Experts say figures indicate "beginning of shift in footfall trends" as summer begins
Families were out in force at the start of the school half-term break as UK high streets reported a 4.4% jump in footfall over the three-day weekend.
According to data from Springboard, coastal and historic towns were the biggest winners following a 14% jump in footfall on Saturday on a year-on-year basis. The data provider named Southsea, Portsmouth and Rhyl as the top towns for growth.
The East of England and North Yorkshire also experienced double-digit growth in footfall on Saturday, but rain on Sunday meant high street footfall dipped 1.7% on the year. London's West End also benefited from a 3.5% increase in footfall on Saturday and Sunday.
Springboard insights director Diana Wehrle said: "High streets have become very aware of losing customers to out-of-town shops and the internet, so they have made more of an effort to hold events, speciality markets and parades to draw in the crowds."
Shift in trends
But while UK high street footfall increased over the bank holiday weekend, retail parks and shopping centres suffered.
Footfall at retail parks fell every day during the weekend, resulting in an overall drop of 4.2%. The out-of-town destinations suffered most on Monday, recording a 13.1% drop in shopper numbers as the weather improved.
Shopping centres experienced a 3.1% dip in footfall as consumers opted to stay outdoors. The decline in shopper numbers was just 0.5% on Sunday as grey skies encouraged customers to stay indoors.
Wehrle added: "Coastal and historic towns proved popular as the sun shone over the bank holiday, resulting in a decline in shopping centres and interestingly retail parks that to date have been the leaders.
"The figures indicate the beginning of a shift in footfall trends as the summer months begin."