Smiggle was the fastest growing shopping centre retailer in the UK last year as it continued its assault on the British market.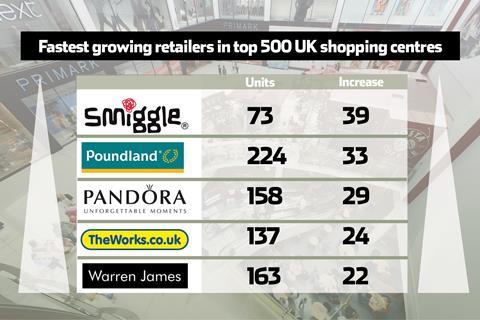 The Australian children's stationery specialist opened 39 stores across the UK's top 500 malls during 2016, according to data from retail and leisure development research specialists Trevor Wood Associates.
The rapid expansion strategy took its portfolio to 73 stores across the popular shopping destinations.
Smiggle's boss John Cheston defended its aggressive shop opening plan in an interview with Retail Week last November, as the business presses ahead with plans to hit the 200 store mark by 2019.
The 'tween' retailer, which launched in the UK in February 2014, edged out Poundland to claim the top spot.
The value operator opened 33 stores across the UK's top 500 shopping centres last year, six fewer than Smiggle.
Poundland's portfolio ballooned last year following its acquisition of 99p Stores, which have been converted to operate under the Poundland fascia.
It now has stores in almost half of the country's top 500 shopping centres.
Jewellery chains Pandora and Warren James claimed third and fifth spots respectively after opening 51 new shops between them.
Pandora now operates 150 stores across the 500 malls, while cut price business Warren James boasts 163.
The duo sandwiched fourth-placed retailer The Works, which opened 24 new stores last year to take its total number of shops to 137.
Check out Retail-Week.com tomorrow for the top five fastest contracting shopping centre retailers.