Blue Inc was the fastest-contracting retailer in UK shopping centres last year as the troubled clothing chain streamlined its portfolio.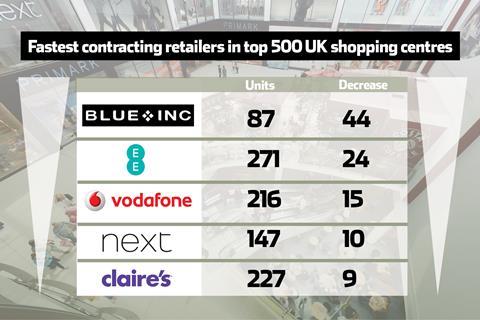 The young fashion retailer shuttered around a third of its stores last January as it restructured the business for "profitable growth."
As part of the drive to streamline its portfolio, which came after Blue Inc placed its subsidiary A. Levy into administration, the chain shuttered 44 of its shopping-centre-based stores during 2016, according to research from Trevor Wood Associates.
Despite the store closure plan, Blue Inc still had 87 stores in the UK's top 500 shopping centres at the start of this year.
Mobile phone retailers EE and Vodafone took second and third spots after shuttering 24 and 15 stores respectively.
EE still boasts 271 stores across Britain's top 500 malls, while Vodafone continues to operate 216 shops.
Fashion giant Next closed 10 of its stores in the shopping centre locations, taking its portfolio down to 147 at the end of last year.
Girls' accessories chain Claire's made up the top five fastest-contracting shopping centre retailers after axing nine stores last year.
However, it still operates 227 shops across the UK's top 500 shopping centres.