Christmas trading is different this year and there are some big new trends in how, what and where shoppers are purchasing their festive gifts.
Christmas, much like the rest of 2020, will be unlike any other this year.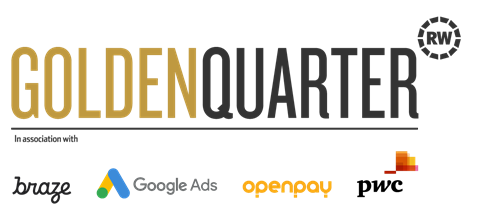 Gone are the glitzy dresses for the office Christmas party, and the mulled wine and cheese boards for festive gatherings (unless you live in Cornwall or the Isle of Wight) – instead we have a very different yuletide with a multitude of new rules to abide by.
For retailers trying to get the golden quarter right, some of the old rules no longer apply as consumers are shopping in very different ways, for very different things.
However, there are some clear indicators on new trends they should take heed of to attract shoppers during this Covid Christmas.
1. The rise of home gifting
Lockdown and social distancing mean consumers have been largely housebound this year and as a result have been buying things to improve their homes.
Google director of lifestyle retail Alison Lomax says: "The period from March to June this year saw 41% more searches related to consumers trying to find inspiration than the same period last year. Their thoughts turned to make their surroundings more pleasant, with search interest in "bedding" and "cushions" up 25% and 40% respectively since 2019, and "tableware" up 16%."
Dunelm sales surged 37% in its latest quarter to September 26 showing the trend to buy for the home was just as prevalent when the first lockdown ended.
Focus has shifted to making our homes look like festive grottos with interest in Christmas decorations far higher this year than ever before. Table runners and tablecloths are currently featured in Google's top 50 Rising Retail Categories trends showing that attention has turned to making the house look special for the big day.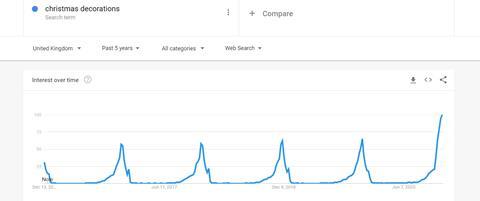 Shoppers have been making purchases to make their homes fit for a variety of purposes throughout the year, from home offices to yoga studios That trend shows no sign of stopping.
In fact, the home is serving a new purpose – the pub. A second lockdown, a ban on pubs serving alcohol in Wales and the introduction of rules such as patrons needing to eat a substantial meal with alcohol within tier two in England have led some to create their own in-home taverns.
Cocktail and barware sets are the sixth top trending category on Google's Rising Retail Trends tool, with searches up more than 100% on last month's figures, and cocktail mixes, flavoured alcohol beverages and beer dispenser searches are all up 80%.
Retailers should cater to this growing trend of gifts to improve and transform the home to win this Christmas.
2. Shopping local
This year has also brought a shift in shopping channels with online, of course, the main beneficiary. In October, online sales accounted for 28.1% of total sales, compared to 18.1% last October.
Apps have proven particularly popular with downloads on Google Play rising 30% in March, as people sought entertainment during the first lockdown.
Retailers should cater for the greater number of shoppers that might now have their apps on their phones by regularly pushing deals and gift inspiration over the next few weeks. Important features such as live stock updates and in-app customer service can also help drive sales.
However, don't be fooled into thinking Christmas 2020 will all be about online.
There was a surge in high street shoppers last weekend after stores reopened post-lockdown, suggesting there is some pent-up demand for consumers seeking inspiration from physical stores.
"Though customers are shopping online, they're also browsing to find local shopping options… searches for 'available near me' have grown globally by over 100% since last year"

Alison Lomax, Google
Although footfall was down on last year's figures, data analysts Springboard said more than twice as many people visited UK high streets on Saturday December 5 than the previous week.
Springboard marketing and insights director Diane Wehrle said numbers were 63% higher than on 20 June, the first Saturday after the UK's initial lockdown ended.
Local high streets are set to fare well. In a continuation of one of the big trends seen since the pandemic hit, shoppers are striving to buy more from neighbourhood vendors both to avoid travelling to city centres or shopping centres by public transport and in an effort to support local businesses.
Lomax says: "Though customers are shopping online, they're also browsing to find local shopping options. As of May, searches for 'available near me' have grown globally by over 100% since last year.
"Smaller and medium-sized businesses can also benefit — searches for 'support local businesses' have grown globally by more than 2,000 times year on year. This trend is likely to continue. Based on new research by Google and YouGov, 88% of consumers who are now shopping more locally say they're likely to continue to do so in the future, while 51% of local businesses believe online reviews can boost business."
Lomax says retailers can capitalise on this trend by making use of free tools like Google My Business, which allows shoppers to find the address and directions to shops and enables retailers to share photos and offers, and make the most of reviews.
3. Thoughtful gifts – but ones that offer great value
Christmas is always a time of year where shoppers think long and hard about what would make the perfect gift, but after nine months of social distancing and missed birthdays, this will be more important than ever.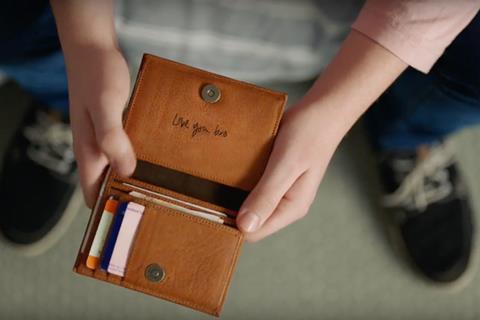 Notonthehighstreet.com chief commercial and marketing officer Ella d'Amato says: "We believe that there will still be strong consumer demand over the festive period as people look to purchase thoughtful gifts for others and to treat themselves after what has been a very tough year."
Retailers should help shoppers find that thoughtful gift, especially at a time where less time is spent looking for inspiration in stores. In fact, Professor Lucy Yardley, one of the government's scientific advisers, has recommended that shoppers spend no longer than 15 minutes browsing items in store.
Making product discovery easy for shoppers should be a priority for retailers. Gift guides and inspiration online, both through brand websites and social channels, is a must. Notonthehighstreet is a master of this and has a section on its website that shares gift ideas for many people, not just 'him' or 'her' but for groups such as grandparents, couples and families.
Just because shoppers are focused on finding the perfect gift doesn't mean they are prepared to spend unlimited amounts on that gift. Lomax says consumers are much more value-conscious and therefore less brand loyal, with 73% of consumers prepared to switch their shopping allegiances.
D'Amato concurs: "People will be careful with their pennies so each purchase will be more considered than maybe it was in previous years."
With online tools making it easier to price check than ever before, retailers will need to make sure they offer competitive prices or added value – such as free gift-wrapping or an element of uniqueness such as personalised products – to win spend this Christmas.