Retail Week delves into the mind of the 2023 Christmas shopper − where will they spend, where are they saving money and what categories are most at risk

Christmas is on many consumers' minds.
As of October 23, 2023, 45% of UK consumers have already started to plan their spending and budget for Christmas, according to a new survey by YouGov and Retail Week in partnership with global parcel delivery management and shipping software leader nShift.
That same survey found 47% of shoppers plan to spend less this Christmas than in 2022. Only 4% of consumers plan to spend more this year as they continue to feel the impact of price rises.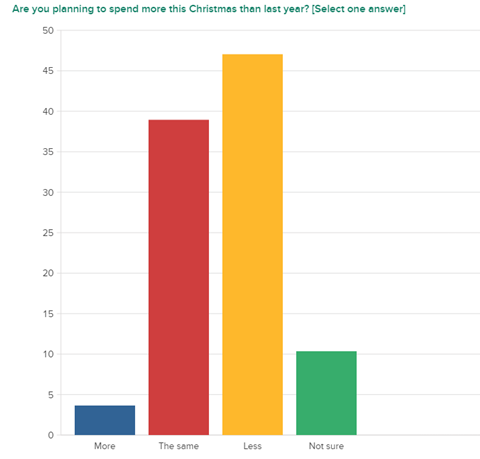 How can retailers make sure they're on shoppers' Christmas wish lists? We spoke to consumer and industry experts, and retailers already in the thick of their festive campaigns, to find out what is making consumers tick.
The psyche of the Christmas shopper
William Trump, founder and lead consultant at Unconventional Wisdom, a consultancy that specialises in behavioural science and customer insight, believes consumers will spend more this Christmas. He argues that surveys – including Retail Week's own – are victims of the consumer say/do gap.
"I notice that every year a survey is done around this time and every time it predicts lower Christmas sales based on customer survey data and every year it's wrong. The January articles invariably read: consumer spending at Christmas was unexpectedly strong but we're bracing ourselves for a tough year ahead."
Trump says his analysis of consumer behaviour "is that Christmas seems to bring out something in all of us, in particular a tendency to spend more than we might have planned. In that sense, in the mind of the shopper, Christmas seems to defy the laws of economic gravity".
Therefore, Trump says: "When asked in a survey, consumers are quick to say they will spend less this year – and maybe they even mean it. But this is likely one of the many areas in our lives where our intentions don't translate into our actions.
"There is no such thing as the average shopper. We are in a cost-of-living crisis but not for everyone. In fact, the Asda income tracker survey shows that strong wage growth and easing of inflation mean that disposable income rose to an average of £220 per household. Financially speaking, some people have had a bad year, some have had an average year, some have had a great year. If people are feeling good, eg: had a pay rise this year, they are likely to want to treat themselves and their loved ones at Christmas."
"The desire for meaningful and memorable gifts remains high, reinforcing the importance of selecting that one special item"

Courtney Rogers, CIJ Group and The Big Christmas Press Show
As for the shoppers who are not doing well financially, Trump believes "many of them will spend less at Christmas but a significant proportion of them will still spend more as a treat, a reward, a brief respite from the difficulties of life".
BRC insight director Kris Hamer agrees: "Christmas is a time where even the most financially pressed will find the money for a few luxuries, especially for their family and friends."
For consumers intent on spending less, there is another trend playing out that is set to impact sales volumes. Courtney Rogers, founder of the CIJ Group and The Big Christmas Press Show, reports that "instead of opting for multiple smaller items, consumers now lean towards gifting one valued item".
"There is an inclination to prioritise essential purchases over indulgent wants, which is a response to the current economic climate. Despite this change, the desire for meaningful and memorable gifts remains high, reinforcing the importance of selecting that one special item to convey thoughtfulness and appreciation," she adds.
Trump agrees the "tat to taste" trend will continue: "Products that highlight their value over time by helping customers bring costs down will have a strong year."
Where will consumers spend?
Supermarkets and value retailers, such as B&M and The Range, are set to fare well this Christmas. Our survey found 15% of the 1,000 UK respondents are prioritising shopping for gifts in both these categories. However, the largest proportion (44%) are prioritising online-only retailers and marketplaces.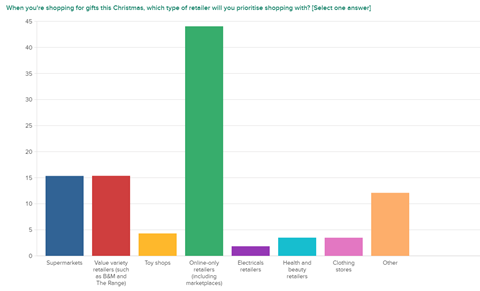 However, store sales more broadly are expected to rise. Hamer highlights that the BRC-KPMG Retail Sales Monitor has recorded over two years of consecutive declines in online sales. He says: "We anticipate this trend to remain for the rest of the year. With workers spending more time in offices, receiving home deliveries is likely to be less convenient this year."
Which retailers will fall out of favour with consumers? For Rogers, it is the "mid-range retailers that may encounter challenges. Understanding the current consumer mindset and preferences are essential to navigate this dynamic landscape successfully."
Rogers points to The White Company's 2022 Christmas marketing tactic as a savvy way to reach consumers. She explains: "The White Company sent customers a £10 voucher after the Black Friday weekend last year, with no minimum spend attached, to enjoy over the festive period. It was a perfect way to entice shoppers back in-store or to shop online."
"It is crucial to provide value for money, offer unique and desirable products, and create engaging shopping experiences."
Elsewhere, sustainable retail is expected to move up Christmas priority lists. While a small figure, 4% of consumers in our survey said they will be buying gifts from charity shops this year and Rogers notes that secondhand platforms such as eBay, Vinted and Gumtree are increasingly popular gifting channels.
Playing to pop culture
Retailers should seize on the opportunities presented by popular culture and the revival of Y2K (the aesthetic inspired by the period at the turn of the millennium) this Christmas.
Trevor Cash, director of MAD Beauty, a licensee for Disney and Warner Bros, says the company is already seeing "strong sales and positive feedback on our recently launched Christmas products" including a Disney Princess-inspired 24-day beauty advent calendar and Frozen 10th anniversary beauty collection.
"The rise of pop culture trends is aligning with our product offerings, making our products more appealing to a larger and engaged customer base all of which is contributing to our optimism for a successful holiday season," says Cash.
Rogers comments that the "nostalgia-driven trend of gifting toys for adults or 'kidults' is also growing. Y2K and 1990s favourites like Tamagotchi and Furby are making a comeback."
When will consumers spend?
Trump believes shoppers are holding back spending ahead of late November, Black Friday and December when they will make "the usual annual splurge".
Office for National Statistics figures for retail sales volumes in Britain fell by 0.9% in September compared with August as consumers cut non-essential spending. Trump believes this is a sign that consumers are saving up for Christmas presents.
"Christmas holds a psychological grip on people that is impossible to shift. This year, as every year, Christmas will remain a day on which we make a big fuss: food, drink and gifts," he says.
However, this doesn't apply across the board with spending on luxury items, unique gifts and toys already in motion.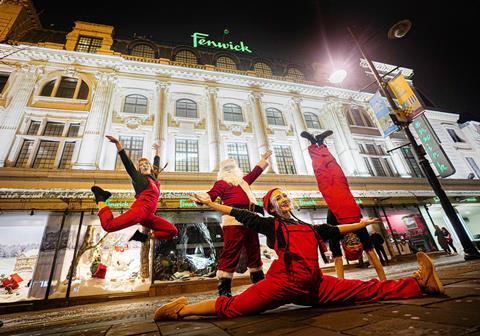 Fenwick chief executive John Edgar says: "Although we'd anticipated a slow start resulting from the unseasonably warm autumn, we're now seeing shoppers start to stock up on festive products and gifts in our Christmas shops which are performing better than in previous years."
He adds: "Christmas really kicks off for Fenwick when we unveil our window display in Newcastle, which we'll be livestreaming on November 5."
Harriet Hastings, founder and chief executive of luxury personalised biscuit brand Biscuiteers, reports Christmas spend is moving forward.
"Christmas sales are up 40% so far this year, with a portion of this growth attributed to the advent category, known for early purchases. Nonetheless, we've witnessed growth across all Christmas categories, and the general interest in Christmas is up by 25% compared to last year. This suggests that consumers may be inclined to spread the cost of Christmas and seek early bargains, especially given the current rise in the cost of living."
A spokesperson for the Lego Group echoes this trend: "We've already begun to see shoppers heading in-store and online for seasonal gifts and our advent calendars have been performing especially well."
Great (customer) expectations
When it comes to meeting consumer demands this Christmas, success hinges on fulfilment.
Sean Sherwin-Smith, product director post-purchase at nShift, says: "Customers want their items to be delivered in the most convenient way. They also expect to be able to make easy returns. They want a seamless experience between online and physical stores."
"Customers want a seamless experience between online and physical stores"

Sean Sherwin-Smith, nShift
Frozen food specialist Cook, winner of Specialty Retailer of the Year at the 2023 Retail Week Awards, is among the businesses investing to keep customers happy this Christmas.
Brand director Claire Postans says this year the retailer launched its Christmas website on September 1, opening up "lots of delivery slots… as we have a huge wave of consumers that are super organised and want to pre-order".
"Last Christmas was our biggest yet and we're confident this Christmas will be even better"

Claire Postans, Cook
Investing in delivery capacity is key, as Postans explains: "We have increased our national delivery capacity by 30% this year and home delivery by about the same amount because that was a pinch point for us in 2022. We've also increased our capacity for click and collect – our customers our are priority.
"Last Christmas was our biggest yet and we're confident this Christmas will be even better."
Cook's like-for-like retail sales were up 22% year on year to £15.7m in the six weeks to Christmas 2022.
"Delivery tracking and returns must be key investment priorities for retailers too", says Sherwin-Smith.
"Many retailers are discovering that delivery update messages are far more effective for cross-selling than conventional marketing messages. Conversely, an intuitive digitised returns capability can help turn up to 30% of returns to exchanges. They also help ensure more returned items go back on store shelves – rather than to landfill.", he concludes.
Three ways retailers are rising to meet customer demands
1. Newness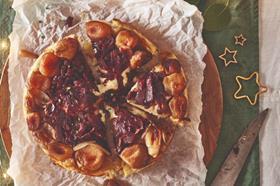 For Cook, its focus is "putting lots of energy into newness", according to brand director Postans. Its 2023 Christmas range includes a new caramelised shallot, celeriac and stilton tarte tatin, duck and venison pithivier pie, and canape selections such as mini salmon frittatas.
The same applies at Fenwick. Edgar says the retailer is growing its beauty offer for Christmas: "We have just announced our Seasonal Switch Beauty Box [a curated box of beauty items free when customers spend £160 or more] and 12 Days of Beauty advent calendar."
2. Personalisation

Biscuiteers Hastings believes that "as consumers seek to manage their spending this year, they will be looking for more unique, thoughtful, and handcrafted gifts that enhance the gifting experience".
The business is investing in its DIY collections and expects them to resonate with customer. The range includes its brand-new DIY snowman, make-your-own gingerbread house and Christmas baubles decoration kit.
3. Immersive experiences
As store footfall rebalances, Lego is among the retailers using its stores to drive Christmas sales.
"Our stores offer an opportunity to experience the brand through digital, physical and personalised experiences such as the Mosaic Maker, the Minifigure factory and Build a Minifigure," says a Lego spokesperson.
"We're also revealing a new interactive feature in our shop windows and [hosting] our Lego festive event, which will take place at the Lego store Leicester Square, in partnership with Save the Children UK.