It is a bumpy time for the UK that has sent yet more shockwaves across homes and businesses, but retail leaders remain optimistic about retail sales in 2023 versus this year.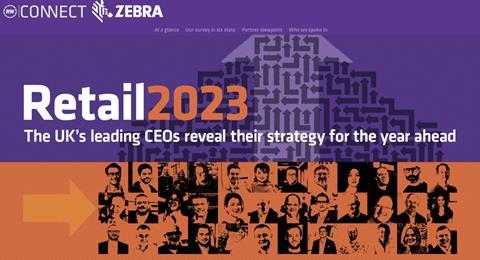 A healthy 67% of retail leaders forecast a rise in sales next year, reveals Retail 2023, a landmark Retail Week report based on in-depth interviews with 57 leaders across 54 retailers.
Retail Week spoke to chief executives, managing directors and founders across businesses including Primark, Ikea, Waitrose, Under Armour, ProCook, River Island and McDonald's.
The annual report, now in its 11th year, provides a strategic outlook on the year ahead and tracks confidence across UK boardrooms.
Want to know what the 54 retail leaders said?
Access your free copy today to find out:
The boardroom forecast from Waterstones, SpaceNK, Dobbies, Ganni, Majestic Wine and more
IT infrastructure, data, loyalty and supply chain - the truth about investment plans
The critical role a diverse marketing strategy is playing from traditional channels such as TV through to TikTok
How retailers are infusing tech with stores to create memorable experiences
Retail 2023 will give you fresh inspiration to weather the coming months and help you build a resilient set of strategies to make 2023 a success.