The nationwide roll-out of the new plastic £5 note for England and Wales will launch today, but will have limited availability.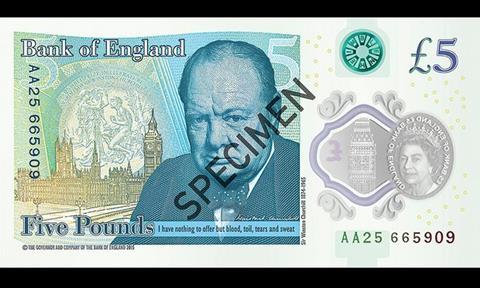 The polymer note will only be available at a handful of banks and cash points in major cities, with most of the population waiting another week to have access to them.
Cash machines in Birmingham, Cardiff, Hull, Leeds, London and Manchester will be the first to stock the new polymer notes.
The notes are much more durable than current paper notes but may cost the retail industry double the amount it spends on handling cash at the moment.
It has been claimed that the cost will jump 50% over the next five years, owing to cash machines, vending machines and self-service checkouts needing to be recalibrated to accept new currency.
Five-pound notes are the first denomination to enter circulation. Tenners will be introduced in 2017.
Australia was the first country to introduce polymer notes in 1988. More than 30 countries, including Scotland and Northern Ireland, have followed in its footsteps.