Competition between grocers has never been fiercer, with a gap of just 0.9% sales growth separating the big four over Christmas, Kantar reported.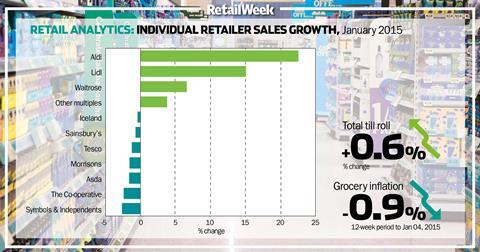 According to Kantar Worldpanel, which has records dating back to 1994, such a tightly fought race is unprecedented.
Asda and Morrisons reported the steepest sales drops over the 12 weeks ended January 4, as both recorded declines of 1.6%.
Sales at Sainsbury's fell by 0.7% over the period, but Fraser McKevitt, head of retail and consumer insight at Kantar Worldpanel, said that in a "tough market this was the best performance of the big four supermarkets".
"Sainsbury's traditionally performs well at Christmas, and its seasonal boost this year means it is now Britain's second largest grocer for the first time since it lost the position in 2003. Given the seasonal nature of this share increase there is a high likelihood that Asda will retake the number two spot later in the year."
Tesco's sales fell 1.2% compared with last year, but this is the retailer's best performance since March 2014. Although revenue declines are slowing, Tesco continues to lose market share, down to 29.1% from 29.6% a year ago.
Aldi and Lidl continued to grow, with sales up by 22.6% and 15.1% to finish the year with market shares of 4.8% and 3.5% respectively. Waitrose's sales increased 6.6% to take its market share to 5.1%.
Overall, increased spending over Christmas helped the grocery market grow at its fastest rate since August 2014, according to Kantar.
McKevitt said: "Shoppers chose to buy a little bit more this Christmas compared with last year, a trend that has pushed sales growth up to 0.6%. This is low in historical terms, but a rally for the supermarkets compared with recent months.
"Shoppers were the big winners at Christmas with cheaper grocery prices encouraging them to spend more at the tills. Like-for-like prices have fallen by 0.9% due to lower commodity costs and an ongoing price war which has continued as the large retailers battle for market share."
12 weeks to 05 January 2014
12 Weeks to 04 January 2015
£m
%*
£m
%*
Total grocers
27,217
100.00%
27,388
100.00%
Total multiples
26,698
98.09%
26,882
98.15%
Tesco
8,062
29.62%
7,962
29.07%
Asda
4,664
17.14%
4,588
16.75%
Sainsbury's
4,654
17.10%
4,622
16.88%
Morrisons
3,133
11.51%
3,084
11.26%
The Co-operative
1,656
6.08%
1,617
5.90%
Waitrose
1,313
4.82%
1,399
5.11%
Aldi
1,078
3.96%
1,322
4.83%
Lidl
836
3.07%
962
3.51%
Iceland
601
2.21%
598
2.18%
Other multiples
701
2.58%
727
2.66%
Symbols & independents
519
1.91%
506
1.85%
*Percentage share of total grocers