Kingfisher group chief executive Sir Ian Cheshire is to stand down by the end of the financial year to be replaced internally by Véronique Laury.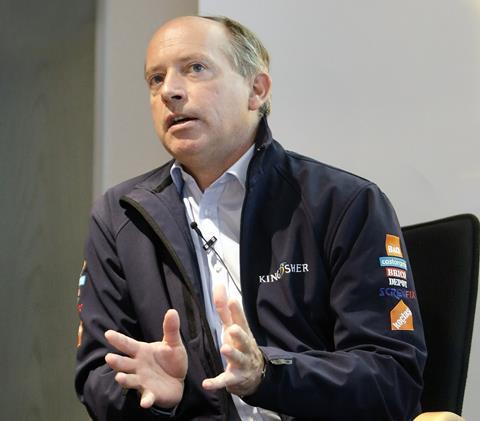 The well-regarded Cheshire will step down from his position during the current financial year and retire from the board on January 31.
Laury has been with Kingfisher for 11 years and is chief executive of Kingfisher's French business Castorama currently. She is a member of the group executive committee and will join the Kingfisher plc Board ahead of taking up her new role. The French arm generates more profit annually for Kingfisher than the UK business, that includes B&Q.
Kingfisher said the decision "recognises that the next phase of Kingfisher's evolution requires a significant leadership commitment and continuity".
During Cheshire's seven-year tenure at the helm, Kingfisher's sales increased 23%, while adjusted pretax profit doubled and the DIY giant's market capitalisation increased by £3.8bn. It is not known what role Cheshire intends to take up next.
Kingfisher said: "The next five years will be particularly busy as we deliver Group-wide best-in-class IT systems and omnichannel capabilities, expand Screwfix and Brico Dépôt into new markets, complete our common brands programme and, subject to completion, integrate Mr Bricolage with Kingfisher's businesses in France.
"With this in mind and with Sir Ian having already served 16 years in the business, 14 years on the Board and nearly seven as Group Chief Executive, all parties believed it was best to clarify succession sooner rather than later.
"Accordingly, Sir Ian will hand over the role of Group Chief Executive to Ms Véronique Laury following a hand over process in the coming months."
Cheshire transformed Kingfisher
Kingfisher chairman Daniel Bernard said Cheshire has "transformed Kingfisher into a stronger business with a bright future during a difficult economic time".
Bernard added that the £1.6bn of financial net debt that has been during Cheshire's leadership has left Kingfisher "strong enough to commence a capital return programme to our shareholders in 2014, the first in Kingfisher's history. He also leaves a strong sustainability legacy in Net Positive and an impressive management cadre throughout the business".
He added: "Following a rigorous review of candidates, internally and externally, the Board believe Laury is uniquely qualified to lead the business on the next leg of its journey. She is an outstanding retailer, with 26 years' experience of home improvement retailing in France and the UK. She is passionate about helping customers have better homes and we are delighted that she has agreed to provide the leadership, pace and drive to deliver our strategy."
"My primary aim… was to deliver a step change"

Sir Ian Cheshire, Kingfisher chief executive
Cheshire said: "It has been a privilege to lead Kingfisher and I am proud of our achievements. My primary aim on becoming Group Chief Executive almost seven years ago was to deliver a step change in the value of the business for our shareholders and I am delighted that this aim has been achieved. Having taken over the leadership role in the depths of the financial crisis I am proud that the Kingfisher of today is a much stronger business, with a more profitable and sustainable model.
"Looking ahead we have a clear path to follow. Helping our customers to have 'Better Homes, Better Lives' whilst driving further international integration and expanding our reach will deliver profitable growth in the future. Now is the right time to hand over to a new leader and I am delighted that Véronique, who I have worked closely with for over 11 years and know is superbly qualified for the job, has agreed to take over from me."
Laury said: "Kingfisher is a strong business, well positioned in the home improvement market and I am delighted and honoured to be appointed as Group Chief Executive. Building on Sir Ian's legacy we will reinforce our purpose to support those who want to improve their homes. In addition we will continue to create value for our shareholders."
Kingfisher figures
Kingfisher retail profit was up 3.3% to £390m in the 26 weeks to August 2. Adjusted pre-tax profit was flat at £364m while group sales were up 4.6% at constant currencies to £5.77bn.
Kingfisher France total sales increased by 0.4% to £2.2bn, while like-for-likes fell 0.8%. It delivered flat retail profit of £182m.
Kingfisher UK & Ireland reported retail profit up 17.7% to £166m. Total sales increased by 6.6% to £2.42bn with like-for-likes up 4.4%. B&Q UK & Ireland's total sales grew by 4% to £2.03bn. Like-for-likes were up 3.2%. Screwfix total sales increased 23.3% to £386m while like-for-likes jumped 11.9%.
At Kingfisher's other international arm, total sales increased by 8.8% to £1.14bn and like-for-likes edged up 1.6%, driven by growth in Russia and Poland. Retail profit decreased by 23% to £42m, dragged down by higher losses in China and "new country development costs".