UPDATED: JJB Sports has collapsed into administration, with arch-rival Sports Direct acquiring 20 stores.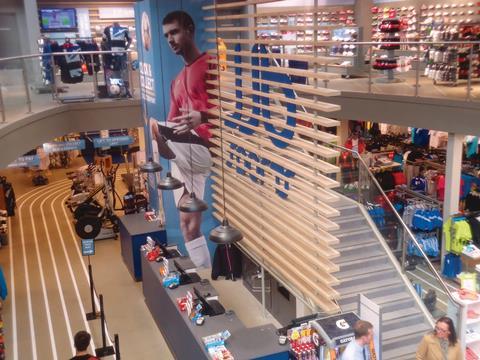 The remaining 133 shops will close today putting 2,000 jobs at risk.
The Mike Ashley-owned sports retailer purchased the 20 stores today, saving around 300 jobs, as tipped by Retail Week. It is unclear if Sports Direct will continue to trade the stores under the JJB fascia.
KPMG partners Brian Green, David Costley-Wood and Richard Fleming were appointed administrators before Sports Direct bought the JJB assets for £23.77m, with up to a further £250,000 of additional cash consideration payable after completion of a post-sale stock take.
Sports Direct had indicated that it was mulling buying up to 60 shops, but the acquisition of the remaining 40 stores were not purchased amid fears over an investigation by the Office of Fair Trading.
JJB said in a statement: "Sports Direct will acquire 20 stores, substantially all of the stock in the business and the Slazenger Golf brand licences, as well as the company's freehold property in Wigan. The remaining stores will not form part of the sale and the administrators do not intend to trade from these stores in the administration.
"The net proceeds of the sale will be used to repay the company's outstanding debt to its lender and other secured creditors. As previously announced, there will therefore be no value attributable to the Company's ordinary shares."
KPMG UK head of restructuring Richard Fleming said: "Successive attempts to restructure the business, both financially and operationally, have not been enough to prevent the company falling into administration. Unfortunately a buyer could only be found for 20 stores on a going concern basis.
"All staff made redundant as a result of store closures have had their arrears of wages and holiday entitlements paid in full. Our team of employment specialists will be supporting staff on completing redundancy forms and putting them in touch with job seeker services. We will now be reviewing what options are available for the remainder of the business, such as selling leasehold interests."
KPMG head of UK retail David McCorquodale said: "In spite of the severity of financial distress suffered by the business, we spoke with over 100 parties in the first few days of our appointment; with eight trade and private equity players tabling first round bids. Unfortunately the level of cash and further operational restructuring required to rescue a more substantial part of the business was too much risk for most interested parties.
"We hope to be able to sell the leasehold interests of some of the remaining stores, which may result in re-employment of some staff."
Sports Direct had been the frontrunner to acquire a portion of JJB's estate since the retailer last week indicated it could collapse into administration.
Last week a potential deal was threatened by a dispute betweem Sports Direct and JJB supplier Adidas over the price at which Sports Direct would take JJB's Adidas stock under any administration.
JJB Sports collapses as Sports Direct acquires 20 shops
1

Currently reading

JJB Sports collapses as Sports Direct acquires 20 shops

2

3

4

5

6

7