Australian grocer Coles is the greatest turnaround opportunity in global food retailing. And an all-star UK line-up is doing it. Jennifer Creevy learns how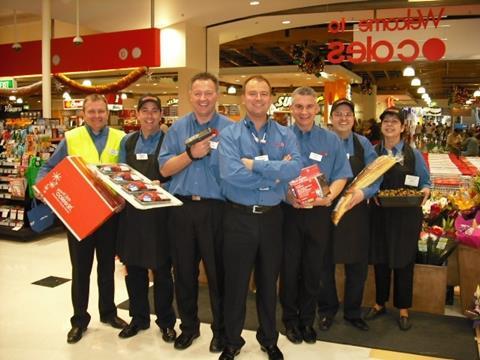 The prospect of escaping Blighty for the sunny climes of Australia has appealed to thousands of Brits over the years.
But for retailers the decision can be a tough one in career terms. While the UK may not have the good weather or relaxed lifestyle of Australia, it has what many rate as the best retailing in the world.
To leave Britain and take on one of the biggest turnaround jobs in world retail would to some seem like madness, but that's exactly what the bulk of the newly established board of Australian grocer Coles has done.
Led by Asda saviour Archie Norman, who worked with Coles' parent Wesfarmers on its 2007 acquisition of the food group and remains as "chief coach", the Australian retailer has attracted some of UK retail's biggest names. And it seems to be working.
Having concluded the acquisition of Coles, Norman worked with Wesfarmers chief executive Richard Goyder to recruit a new management team for the chain, which had suffered from under-investment for more than 10 years.
Between them, the members of the new Coles team – most of whom were placed by headhunter Barracuda – have vast UK grocery experience. Managing director Ian McLeod was most recently chief executive of Halfords but previously worked for Asda. Operations director Stuart Machin has Sainsbury's, Tesco and Asda under his belt, merchandise director John Durkan was at Safeway, and marketing director Joe Blundell and store format development manager Gavin Parker both had stints at Asda.
The British stalwarts have joined their Australian colleagues and thrown themselves into the five-year turnaround strategy. The retailer – which is being led by McLeod, who joined in May last year – has a tough journey ahead but just a year into the plan, the signs of change are already evident.
In its third-quarter results, Wesfarmers reported stronger growth than expected at Coles. Total food and liquor sales were up 7.6 per cent to Aus$5.3bn (£2.55bn) to the end of March, and comparable food and liquor sales were up 6 per cent. Like-for-like sales of fuel and convenience were up 6.7 per cent. The sales uplift is only the beginning though, and the team has a long way to go.
Global food retailing
But how did a neglected supermarket chain on the other side of the world, which had been overtaken and left trailing competitor Woolworths for years, attract so much UK talent?
For Norman, the answer is simple. He says Coles represents "the greatest turnaround opportunity in global food retailing". He explains: "From time to time situations come along where a great brand is not being allowed to perform. Asda was like that in 1991 and Sainsbury's was like that post-Peter Davis, before Justin King came in.That was the challenge of Coles."
Norman is quick to point out that UK retailers were not targeted per se. "We recruited on talent and not location," he says. "While the team from the UK we have is very strong, we also have some very capable Australians in place in areas such as IT and logistics."
Machin believes the reason Coles has attracted so many Brits is twofold. "The first reason to join a company is the people, and with Ian and Archie on board as well as Richard, you couldn't hope for a better team," he says. "The second reason is because you think you can add value. When I had a tour of the Coles stores, I knew I could add value."
After years of neglect, Coles was in a "mess" by the time it was finally bought by Wesfarmers, says Machin. And rather than resent the fact that a team of Brits has been parachuted in to save the Australian retailer, he says the staff were relieved that a fresh management team had taken over.
"When we went around the stores we expected the first question to be something along the lines of: 'What about the Australian talent?' but that wasn't even an issue," recalls Machin. "What staff desperately wanted to know was how we were going to fix Coles."
Another positive pointer was listening to staff. McLeod says: "The level of neglect caused the chain to be put up for sale and while we were careful not to come from the UK with preconceived ideas, the difference was that we have a senior team with retail experience talking to stores. The previous management was remote from stores and customers, therefore we had a warm welcome."
Planet Retail senior analyst Rob Gregory says one of the big problems with Coles was the management before the buyout. It needed fresh blood. He cites a report by broker Citi's Australian arm as evidence that the new management team was a good move.
Citi claimed in March this year that management had been the primary difference between Coles and Woolworths, giving weight to the new appointments. It said Coles' problems were not structural, but were management challenges centred around service, store format, produce range and pricing.
A long term goal
Citi also said the retailer has a more lucrative store network than Woolworths and forecasts that Coles' sales growth will eventually outstrip Woolworths. At present, however, Norman says: "We are a long way from declaring victory. Right now Woolworths is way ahead and just being as good will be a huge achievement. But we're confident we're on track."
The five-year turnaround plan is "not for the faint hearted", says Machin. "It's a huge brand and huge responsibility to Australians. The goal is to give people a shop they can trust."
The first phase is what he describes as "retailing basics". After the team was put in place, it sought to tackle staff motivation, service, store environment, range and value.
Head office bureaucracy and over-centralisation had dogged Coles prior to the Wesfarmers deal and Norman says a focus on profit margins meant the retailer had lost the ability to offer value. "The business had turned away from the customer – it had become introverted," he explains.
The steps that Coles has taken so far have therefore been driven by what customers want and what staff told the management they need. "99 per cent of the things we've done so far have come from the store staff and the customers," says Machin. He likens the transformation to his experience at Asda. "UK grocers are highly competitive with each other – but while I was at Asda we weren't obsessed with Tesco, we were obsessed with the customer," he says.
Cultural shift
Some of the changes Coles has implemented have included making the business store-centric, implementing customer service training, cleaning every store and bringing in new equipment such as deli counters, refrigerators and trolleys, focusing on expanding its fresh food range and making subtle design changes.
"The teams didn't feel empowered because of the central culture," says Machin. "So we changed the name of the head office to the support centre for a start, then listened to what they needed and implemented it."
He remembers one simple example. "We improved maintenance as teams told us that they would have to wait weeks under the old regime for small things such as a light to be fixed. Very quickly stores started to feel valued."
Training was also key. Coles has just embarked on its first management trainee course – with 300 staff – and its first graduate trainee course, taking on 80 staff. The retailer is also finding that training cuts the wheat from the chaff. "Those that are with us felt really motivated by the prospect of training and those that weren't up to the challenge have left," Machin says.
He explains that while Coles is still searching globally for general and regional managers, it only wants staff with the right attitude: those who believe in the future of the brand.
The store environment was also cleaned up. Machin says: "It was a battle to get into the stores as they all had barriers and for some reason they were all obsessed with security, so shoppers' bags were searched on their way in. It was a miracle that anyone bothered to shop there."
The bag searches were ditched and the unwelcoming posters about stealing came down, replaced by traditional security such as cameras. "The stores are now welcoming, we've put flowers at the front, they are clean and the value message is clear," he says.
Another important change was the drive for quality fresh food. "We want to be known as a great fresh food supermarket with a focus on quality and value at the same time," Machin says. He believes that being a one-stop shop will give it an edge over the competition.
The new fresh range has built up the quality offer, according to Machin, and the retailer has strengthened its value offer with deals that are reminiscent of those in the UK, such as Feed Your Family for Story text0 (£4.80). He adds that the amount of promotions has actually reduced but the offers are better.
Testing the waters
Coles is also testing new formats including a value proposition to possibly replace value chain Bi-Lo. The new design "doesn't look a million miles from a UK supermarket", says Machin.
"Not everything will work so at the moment we are trying lots of new things," he says. "In some places the main competition is Woolworths, in others it could be Aldi and in some it is independent markets, so we are adapting as we go along."
Machin would still only mark the stores at about four out of 10, but is pleased with the early results. And while Norman is keen to point out the new team is "not reproducing Tesco", Machin believes lessons taken from the UK have been essential.
"We want to take the best of the UK and create the most efficient model," Machin says. "We hope to be the best of Sainsbury's, Asda and Tesco and add in the subtle differences in culture."
Machin's experience of UK grocers has stood him in good stead. At Sainsbury's, where he started aged 16, there were "fantastic people who challenged and developed me". At Tesco, he says he learnt about efficiency and keeping things simple. And at Asda he says he "loved the down-to-earth culture, the no-nonsense approach".
Machin also believes Britain's other grocers such as Morrisons, Co-operative Group and Marks & Spencer have qualities he will learn from. "The UK has the best companies and the most competitive retail environment in the world and there is so much I can take back in terms of merchandising, value, range and layout," he says.
McLeod notes the "constant innovation" that the UK has, which Coles can learn from. "The focus on the customer means grocers have to constantly innovate to keep up with changes, and we are learning to do that here," he says.
Coles is a long way from regaining its Australian crown but it is one step closer – to steal a phrase from Sainsbury's – to being great again. And while you'd expect any Brit who emigrated to Australia to mention the sunny weather within the first 10 minutes of talking to those back home, the Coles team make no mention of it. There's too much work to be done to enjoy the weather just yet.
Coles: a potted history
Founder George Coles travels to the US to study best practices in retailing in the early 1900s
In 1914 he opens the first Coles Variety store in Collingwood, Melbourne
In 1960 the retailer opens its first supermarket in North Balwyn, Victoria. By 1973 Coles has achieved its aim of establishing a supermarket in every Australian state capital
From the 1980s to the early 2000s Coles acquires several chains such as Liquorland and value player Bi-Lo
At the beginning of 2007 Coles Group is put up for sale. Interested parties include private equity firm KKR
Wesfarmers acquires Coles in November 2007. Asda saviour Archie Norman advises Wesfarmers
Former Halfords boss Ian McLeod joins as managing director of Coles in May 2008 to lead a five-year turnaround. He recruits a team including UK stalwarts
Coles has 700 eponymous supermarkets, 59 Bi-Lo stores, 860 liquor shops and 600 convenience stores.
Five-year turnaround plan
Years 1-2
Build a solid foundation
Create a strong top team
Instigate cultural change
Improve availability and store standards
Improve value and customer trust
Store renewal development
Liquor renewal
Tackle IT and supply chain infrastructure
Efficient use of capital
Years 2-4
Deliver consistently well
Embed the new culture
Team member development
Improved customer service
Improved efficiency
Appealing fresh food offer
Stronger delivery of value
Scale roll-out of new format
Auto replenishment completed
Years 4-5
Driving the Coles difference
Culture of continuous improvement
Strong customer trust and loyalty
Strong operational efficiency
Innovative and improved offer
Open new stores, new categories