As Clinton Cards posts results, Nicola Harrison talks to the group managing director about growing up in the business and what the year ahead holds.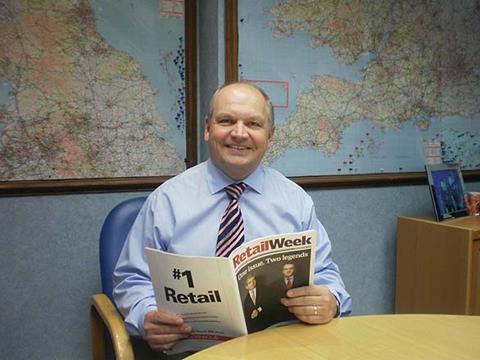 Clinton Lewin was just seven years old when his dad founded and named the family greetings cards business after him.
Lewin, now group managing director of Clinton Cards, says he didn't pay much attention to his new-found fame as a young lad, but now feels proud to have his name above the door. He enjoys being part of the family-run business - which was due to update as Retail Week went to press - set up by his father, chairman and chief executive Don Lewin.
He says: "I enjoy the business, and the fact it's a family business enables me to have a closeness with it."
But he adds it is not always plain sailing working for your father. "As with any people you work with, there are high and low points. We are no different. There are times when I disagree with him and times he disagrees with me, and that's life. Over the last 33 years, I've managed to keep sane," he jokes.
Lewin says he "hung around" his father, who he calls 'dad' at work, from about the age of eight, when he would accompany him on visits to wholesalers, which he describes as like visiting an Aladdin's cave, full of toys and Beano and Dandy annuals.
Having begun on these visits, helping to count orders for the shops, he left school as a 15-year-old and worked at the retailer's third shop in Ilford, east London. He later joined head office, where his jobs "touched every part of the business".
"I learnt as I went. My father was a pretty good teacher," the 49-year-old recalls. "I've been in greetings cards man and boy. It's certainly got under my skin. I get a buzz out of it."
With his sister Debbie also "heavily involved" in the business as product development director on the board, does Lewin see a place for his own children, aged eight, 11 and 14, in it?
"I'm very open to it, but feel quite ambivalent," he says. "If they show a degree of interest and capability, then great; if they don't, that's also great."
Since 1988 Lewin has been managing director, which he says he was "working all my life" to achieve. The same year, the retailer floated on the Stock Exchange. He says the best thing about management is seeing an idea develop, then become commonplace across the business.
He describes himself as impatient, and firm but fair, with a sense of humour.
Lewin says the experience his father brings, along with his own younger outlook, has helped the retailer. "I have an understanding of the needs of the public," he says. "And I spend as much time as possible in our shops. Hopefully it leaves people inspired."
Like many retailers Clinton Cards has found the going tough in recent years. It closed its Irish business this month and issued a profit warning in January. Lewin remains cautious about the year and says the biggest challenge will be the "balancing act" of weighing rising costs against the need to pull in customers. "It's tough. Consumers are holding back. Fewer people on the high street always makes things difficult," he says.
However, he maintains that Clinton Cards is "never short of ideas" to help combat the difficult market conditions.
Outside work, Lewin's main passion is wildlife photography, and he travels to far-flung places such as Alaska, India and Africa for the perfect shot.
"I'm very interested in different cultures," says Lewin. Many of his own pictures are hung on the walls of his home and office, alongside the picture of former Tory Prime Minister Margaret Thatcher that famously hangs at the retailer's head office.
"Margaret is still there and always will be," says Lewin. David Cameron has not been granted a place on the wall yet. "Cameron needs to earn his spurs a bit more," he adds.