More than 40 Clintons and Birthdays stores will shut by the end of May, affecting 300 full and part-time staff. Full closure list below.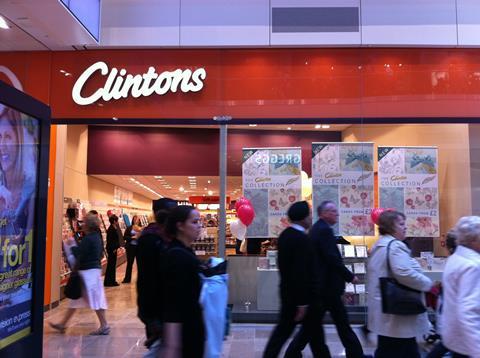 The administrator to the beleaguered greetings card retailer, Zolfo Cooper has revealed that 25 Birthdays stores and 19 Clinton Cards stores will close, resulting in 44 closures in the next week out of a planned total of 350.
There have also been 66 redundancies at Clinton Card's head office.
Zolfo Cooper is still to decide plans for the remaining Clinton Cards stores earmarked for closure, which may trade for longer than initially thought. However more store closures are expected in "forthcoming weeks".
Joint administrator Peter Saville said: "We have received expressions of interest from a number of third parties and are confident that the remaining retail estate will be better placed going forward.
"We are fully aware of the impact these closures will have and are working with a number of relevant agencies and third parties to assist employees affected by the store closures. We would like to take this opportunity to thank all employees for their professionalism and dedication during this difficult time."
Saville added that Zolfo Cooper had been unable to find a buyer for the "majority" of the Birthdays stores.
Stores to close in May 2012

Birthdays
Clinton Cards
Aylesbury (Pure Party), High St
Ballymena, Tower Centre
Bristol, 83 Broadmead
Burton-Upon-Trent
Carmarthen, St John Street
Coleraine
Cookstown
Cumbernauld
Dalkeith
Falkirk (Pure Party)
Fort William
Hamilton, Palace Towers
Hempstead Valley
Horsham
Leamington Spa
Lincoln (Pure Party), Waterside Centre
Luton (Pure Party)
Melton Mowbray
Middlesbrough (Pure Party)
Portsmouth
Sheffield (Pure Party), Crystal Peaks
Southampton, Marlands
Stevenage (Pure Party)
Stratford-Upon-Avon (Pure Party)
Whitby
Clinton Cards
Airdrie
Belfast, Connswater
Cardigan, High Street
Coatbridge, 88 Main Street
Edinburgh, The Fort
Galashiels, Douglas Bridge
Glasgow, Byres Road
Glasgow, Sauchiehall Street
Greenock, U54 Hamilton Way
Hamilton, Regent Street
Hull, Princes Quay
Morley, Windsor Court
Northampton, Peacock Place
Oxford Street, Plaza
Paisley
Ripley, Oxford Street
Stirling, Castle Gait
Wetherby, Horsefair Centre
Widnes, The Mall