A week after the shocking riots, retailers reflect on events that put their stores and staff on the front line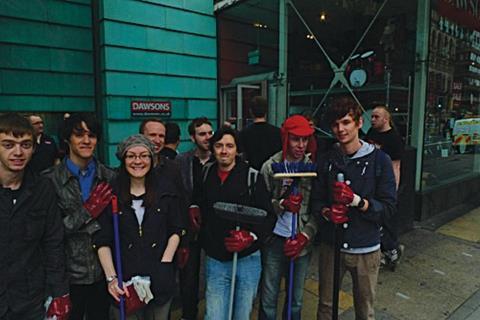 Peter Cowgill, JD Sports
The retailer was one of the hardest hit with up to 30 of its stores affected by the disorder. JD Sports chairman Peter Cowgill is resolute and insists it is getting "back to business as usual". He says: "The majority of stores are up and running though a few have more permanent damage and need a full refit. They may not open this week."
He says stock levels will not get back to normal for some time.
The JD boss, who is still trying to quantify the damage, which he predicts will be in the multi-millions, says he was reassured by the public reaction and the offers of help cleaning up its ransacked stores. "There's been a very good community spirit, for our brand in particular," he adds. "It shows these people are in the minority."
Trading was affected across its portfolio last week. "There was an overall footfall decline in all major centres. Hopefully, now law and order has been reinstated things will get back to normal."
Cowgill is less optimistic about the ordeal ahead, particularly compensation. Although he received a call from Downing Street, Cowgill does not expect much help.
David Barford, John Lewis
The department store chain's director of selling operations David Barford thinks the riots serve as a reminder of the need for a co-ordinated approach and of the impressive commitment of store staff.
"Last week's looting activity highlighted the importance of fostering strong relationships with the police and shopping centre management across the UK," he says.
"John Lewis at Home Croydon was broken into on Monday night [August 8]. Our team worked with the police to monitor the situation closely and ensure the safety of our partners and customers."
He says the shop was closed on the Tuesday, but the "team of dedicated Partners" worked hard to ensure that the shop was ready to trade on the Wednesday.
He added: "We will be reviewing our procedures."
Steven Cohen, Blue Inc
While arson, looting and violence dominated the TV screens, there were many acts of bravery by ordinary people who stood up for retailers during the riots – many of whose names are unknown.
There was 'Brenda' for instance, who 'unlooted' Debenhams' Clapham branch by putting stock back into the shop.
Or the Rastafarian filmed removing blazing stock from Blue Inc's Peckham store, thereby ensuring that the whole place was not destroyed. You can see him on Retail-week.com, on YouTube footage sent to Blue Inc and forwarded by chief executive Steven Cohen.
"It shows there are hidden stars out there," says Cohen.
Blue Inc's shop in Woolwich, south London, was razed during the disturbances, but with that single exception all other stores – including Peckham – quickly opened again.
What wider lessons are drawn from the disruption by Cohen? "Policing on the streets needs to be stronger. I think the Government could have acted quicker on Monday night when the riots were in full throttle. I think we need to encourage kids into work and education more."
Stephen Robertson, director-general, BRC
For Robertson, last week's mayhem reinforced some long-standing opinions and made him more determined than ever to get the concerns of the industry across to Government.
The disturbances illustrated more clearly than ever the urgent need for shop crime to be taken seriously. "We've had two decades of increasing trivialisation of shop theft and abuse of shop staff," he says.
"We have yet to see any outcome in terms of toughening the judicial response to lawbreaking. Now is the time to say 'no more'."
He believes that the rioting also showed how important it is to improve the health of the high street. "It makes ever clearer that we need to get together to help the high street. We've made the arguments before," Robertson says.
Business Minister, Mark Prisk
The business minister assures retailers that everything will be done to help those affected by the rioting, but admits that it will take "months if not more" for the worst affected locations to recover.
Prisk tells Retail Week he spoke to between 40 and 50 retailers in the immediate aftermath, and is confident the measures introduced by the Government will help and that red tape barriers are being removed to ensure that happens.
"We're stripping away bureaucracy," he says. "What we're trying to do is make sure the high street as a whole gets back to trading."
Retailers welcomed the Government's response to the rioting last week, which was unveiled by Prime Minister David Cameron.
He unveiled a £20m high street support scheme to "help affected businesses get back up and running quickly". London Mayor Boris Johnson has also set up a fund, of £50m, to help the capital's high streets get back on their feet.
Jason Cashman, M&S
A week after the riots people in Clarence Road, Hackney, held a tea party to reclaim their area.
The local Mare Street Marks & Spencer supplied cakes, biscuits and other treats, along with tablecloths, plates and the like, and goodie bags for children.
Store manager Jason Cashman, Hackney born and bred, helped organise the event and said: "M&S has traded in Hackney for 97 years and we've always been proud to serve, and be part of, this community. It was a no-brainer for us to get involved.
"We wanted to help showcase what Hackney and our people are really like – warm, friendly and community minded. The event saw Hackney at its best, everyone came together in support of our community and M&S is delighted to have played a part in this."
Lawrence Pickup, Dawsons
Pickup is inspired by how customers flocked to help out at Dawsons Music store in Manchester last week after rioters looted and vandalised the Portland Street shop.
Dawsons, which was established in 1899, had windows smashed, stock stolen and items such as pianos vandalised in the riots on Tuesday last week.
Marketing manager Pickup described the situation as "heartbreaking" but that "our sadness and anger was quickly replaced by a feeling of defiance" as customers helped clean the store up (pictured above).
The ground floor remained off limits on Wednesday last week but the first floor was open as normal. "There was a real Dunkirk spirit about it and I know that by the time we locked up again we all felt incredibly proud to work for Dawsons," he says.
"People came to the store to spend money, and the streets were full of young people with brushes offering to help, which was good to see," says Pickup, adding that the Greater Manchester Police were "incredibly supportive".
Mark Hinds, F Hinds
The 100-store jeweller had its Clapham Junction shop ransacked last week. F Hinds director Mark Hinds believes the stiff sentences in prospect for offenders following the riots are a long-overdue deterrent to crime against retail.
"The police were uninterested in retail-based crime such as shoplifting," he says. "Unless there's serious injury, the most the authorities will do is issue a caution. People think that they can get away with it.
"They're now being told 'you will go to prison', which is sending out a clear message to potential perpetrators."
Hinds says that his shop was one of the last in Clapham to be looted after members of the public guarded the premises. He says the most concerning part of attack was the threat to those living above the store.
He says: "It was very, very frightening for them. They thought the building was going to be set on fire."
A Tesco customer says thanks
Tesco shoppers were among those caught up in the riots on Monday last week when looters targeted the grocer's Morning Lane store in Hackney, east London. While the situation was frightening for everyone, the manager was buoyed by customer feedback about how it was handled.
One customer wrote to the grocer to "praise your Hackney store" and noted: "I was one of many customers caught up in your branch when a group of pathetic yobs attempted to rampage your store and if it wasn't for the quick actions of the security staff they would have succeeded.
"Thank you for your time today and thank you for keeping me and other shoppers safe."
Retailers offered help with space and product supply
It's not just members of the public armed with brooms who have offered retailers help following riots – suppliers and landlords have been doing their bit too.
Brandspace, which rents kiosks and merchandising units in shopping centres including the O2 Centre in Islington, The Glades in Bromley and Lakeside, has offered riot-hit independent retailers free trading space while they get back on their feet.
Brandspace retail director Roy Wade says: "For small retailers it's not just their business, it was their lives which are destroyed. The street clean-up was about people coming together and doing what they could to help. Offering this space is our way of getting our brooms out and helping where we can."