When Sainsbury's boss Mike Coupe unveiled its Netto venture, the grocery chief said it could "open up a new long term growth opportunity".
Perhaps unsurprisingly, that has not come to pass. The retailers revealed yesterday that after two years they are to part ways after "assessing trading data, customer and operational insights, expansion costs, the evolving food retail market and longterm strategies for each business".
Let's not forget, it was only a trial and, as with all experiments, success is not guaranteed.
But the severing of the deal tells us a lot about Sainsbury's shifting priorities and the challenging discount market.
The grocer, quite simply, has bigger fish to fry.
Coupe is betting on its acquisition of Argos – which is currently being held up by the competition authorities – propelling the growth of the grocer in the coming years.
For Coupe, the chance of leveraging Argos to deliver a market-leading fulfilment offer is a more tantalising prospect than taking a slice of the discount market that has been so dominated in the last five years by Aldi and Lidl.
And with a resurgent Tesco emerging, Coupe no doubt thinks it wiser to prioritise investment in its core grocery business rather than on an uncertain experiment with a discounter that does not exactly have the best track record of making it in the UK. Remember, Netto made a retreat from these shores back in 2010 after selling its stores to Asda.
In short, Netto was perhaps becoming a bit of a distraction for Sainsbury's.
The toughest market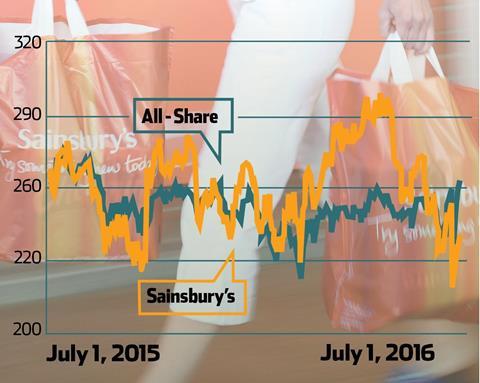 The fact that the joint venture did not produce the goods tells us how difficult it is to achieve success in one of, if not the toughest grocery market in the world.
Despite the combined power of Netto's knowledge of the discount sector and Sainsbury's vast experience of the UK market, it was not a match made in heaven.
As reflected in Kantar data throughout this year, being a discounter is not enough.
Waitrose is continuing to outpace the market while Co-op's revival is gaining more and more momentum. Aldi and Lidl balk if they are labelled simply as 'discounters'. Price on its own will not win in this market.
As Coupe said yesterday: "Since we first envisaged the trial, almost three years ago, the grocery sector has evolved significantly and we launched our strategy 18 months ago to address these changing dynamics."
And Netto does not fit with that strategy. While Sainsbury's will be applauded from some quarters for pulling the plug before it lost too much money, for Netto it is a second embarrassing defeat in the UK market.
The Danish grocer, and its Scotty dog logo, is once more having to walk away with its tail between its legs.
Nicola Harrison is content editor at Retail Week
Sainsbury's cuts ties with Netto – all stores to close by August
1

2

3

Currently reading

Opinion: Sainsbury's split from Netto reflects its shifting priorities

4