December, traditionally the month in which retailers had a licence to print money, proved lacklustre for many, as sales and footfall data have shown.
So after a peak period when established trading patterns were disrupted, what lessons should the industry learn from businesses that performed well?
John Lewis emerged as one of the winners, and boss Andy Street went into some of the reasons why in a video interview with Retail Week.
He highlighted the important role that online played, something that has been widely discussed in the light of the big shift in shopper behaviour in the final months of the year.
But he also flagged something so obvious that it can often be forgotten.
While shoppers remain reluctant to splash out with retailers, the objective must be to grow market share. And key to that is product.
It's been noticeable that many of the retailers that weathered Christmas well have referred to the power of their product offer.
Notonthehighstreet boss Simon Belsham noted that "consumers are looking for more than the ubiquity of mass-produced products". Paperchase chief exec Timothy Melgund cited its "distinctive, design-led offering" as core to its appeal. And Sainsbury's Mike Coupe attributed his Christmas performance in part to the strength of the Taste the Difference range.
Shoppers expect many big retailers, whether in food or general merchandise, to carry the best-known brands. But they also seem especially willing to open their purses for unique lines that can't be found anywhere else – whether own-brand or third-party.
That can offer a path to extending market share.
Exclusivity of product, assuming that product is good enough, provides a defence against competitors – notably Amazon and other online players – because prices cannot be undercut.
It can additionally help store sales. Dixons Carphone, for instance, is able to line up exclusive deals with big-name suppliers because its stores enable them to display and explain products in a way that online retailers often cannot.
As retailers start the new year amid uncertain conditions, perhaps renewed focus on product may prove a key guarantor of success.
Signs of life at Tesco's Extra stores
One of the surprises on Tesco's Christmas update was that its Extra hypermarkets notched up like-for-like growth.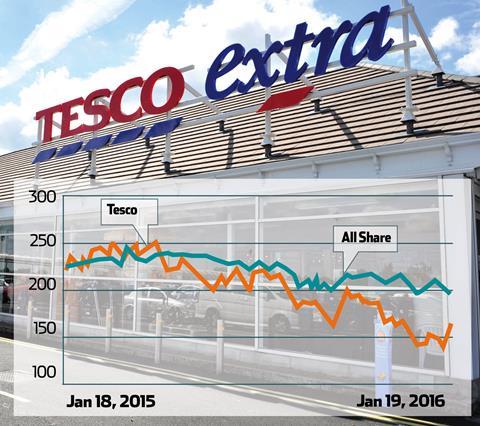 While retailers, particularly the grocers, consider how to best use space, it looks as if, despite their obituaries being written, the big-box store is not dead.
Retail parks continued to draw shoppers over Christmas even as shopping centres and high streets suffered footfall declines.
There may be all sorts of reasons for the difference in fortunes, including signs that the fear of terrorism is keeping people away from some destinations.
But Tesco put the seasonal success of its Extra branches down to factors such as enhanced service and the strength of its gifts and clothing ranges.
As with product, old-fashioned retail disciplines can still make a difference in the era of omnichannel shopping.