Sainsbury's has unveiled its ad featuring a depiction of the 1914 First World War Christmas truce featuring the famous football game.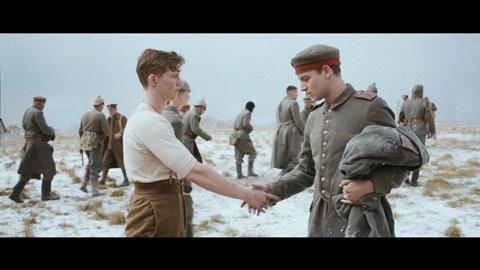 Sainsbury's premiered the ad last night.
Called 'Christmas is for Sharing', the ad was created to raise funds and awareness of The Royal British Legion.
The ad is set on Christmas Day 1914 when British and German soldiers came together on neutral territory to share a game of football. The grocer has based the ad on original reports and letters, and worked with historians.
In the ad, a young British soldier ventures out onto no man's land, and shares a moment of friendship with a German soldier. As the truce ends, the German soldier is moved to discover his British friend has hidden a bar of chocolate in his pocket.
Sainsbury's has had a 20-year relationship with The Royal British Legion. The chocolate bar featured will be available to buy for £1 at Christmas, with profits donated to the charity.
"We have worked together closely with the Legion to ensure we bring this moment to life with authenticity and respect"

Mark Given, Sainsbury's
Mark Given, head of brand communications, Sainsbury's, said: "Christmas is a special time of year when people come together to share simple moments and kindnesses.
"This year, we wanted to reflect that theme of sharing in our Christmas campaign through the lens of one of the most extraordinary moments of sharing in modern history, when on Christmas Day 1914, British and German soldiers laid down their arms and came together on neutral territory to share stories, mementoes and even a game of football.
"The Christmas truce is an emotive and cherished story in our history that is especially poignant in this First World War centenary year.
"That's why we have worked together closely with the Legion to ensure we bring this moment to life with authenticity and respect."