Selfridges has become the first department store in the world to unveil its Christmas windows.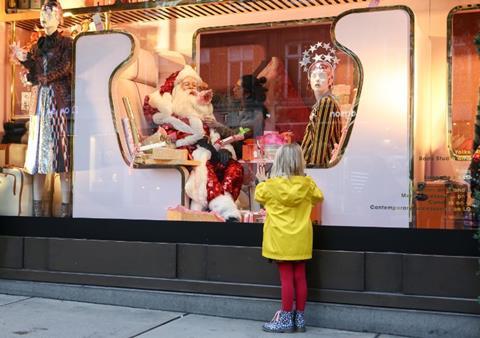 Selfridges selected a 'Shine On!' theme for its Christmas shop and windows this year. The modern aesthetic is bold and untraditional, with bright metallics and neon glitter.
Selfridges has described it as "a multi-coloured glitter disco ball dance party to which everyone's invited… think Palm Springs meets an Alpine rave meets Jeff Koons".
Selfridges' 16 Oxford Street windows are seen by over 100,000 people every day.
The largest 12 windows are traditionally used to convey the department store's seasonal narrative and for this Christmas they centre around Father Christmas in different situations.
Five windows feature state-of-the-art sound systems that use the vibration of the glass panes to produce music. Each of those windows has a Christmas soundtrack which matches the mood of the window it plays from.
The windows follow the early opening of Selfridges' Christmas department back in August, which Retail Week captured at the time.
Selfridges will also produce its own pantomime this season, throw child-friendly raves every afternoon during December and surprise shoppers with roaming discos and exploding glitter canons.