With less than two weeks till Christmas, retailers are vying for last-minute spend and one of the big differentiators is customer experience.
Christmas shopping is a serious business for retailers and consumers alike, and the consequences for those that get it wrong can be huge.
In a world where social media makes it quick and easy to share your purchasing experiences – positive and negative – at the touch of a button, the pressure is on retailers to get it right every time or risk negative online feedback.
Consumer complaints
Problems with fulfilment, items being out of stock or slow websites can all result in negative experiences for customers and increase consumer stress levels, which are often already high at this time of year.
"In a world where social media makes it quick and easy to share purchasing experiences, the pressure is on retailers to get it right or risk negative feedback"

Katie Barker
According to recent research from Retail Week and Microsoft, the most common complaint from consumers about their peak shopping experience last year is that the cost of delivery was too high – 31% say this contributed to a substandard shopping experience.
Too many marketing emails comes in second with 22%, and items not in stock is next with 21% of the vote.
When posed the same question in 2014 about their previous Christmas shopping experiences, cost of delivery also topped the list of problems for consumers that contributed to a substandard experience.
Asked about how retailers could improve the customer experience, free delivery tops the 2015 list with 61%, suggesting consumers do not like paying for delivery at all, so almost any costs could be considered too high.
Clicks to eclipse bricks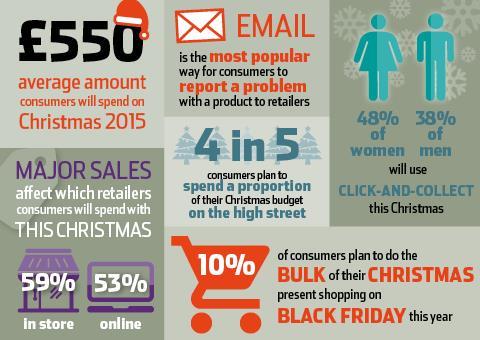 This challenge is only going to increase for retailers as online, and particularly mobile, shopping become the norm.
Black Friday 2015 was the perfect example of this; while many retailers rung up huge sales, more consumers than ever chose to shop online rather than head out to the high street.
Footfall across the UK actually fell 4.5% according to analyst Springboard. More of a surprise was that across the whole weekend it dropped by 9.6%.
This shift will not only increase the pressure on retailers' delivery capabilities, but their website and mobile capabilities too.
Online functionality
Enhancing website functionality was identified as one of the most important ways retailers could improve the overall experience of peak trading for consumers.
30% of consumers say better stock visibility would improve their experience, while 26% say websites that are better able to cope with demand would help, and 22% say making websites easier to use would be an improvement.
The retailers that will succeed will be those who can entice consumers into spending with them in the first place, whose websites can cope with the level of demand thrown at them, who can fulfil as and when the consumer wants, who can use technology to enhance the experience and not as a gimmick, and who can meet or exceed consumers' expectations throughout their interaction. This is no small challenge.
Planning for the peak: 2015 and beyond
For more tips on improving customer experience and ideas about how technology can help retailers over peak, read our interactive guide here.