Record levels of discounting are expected in the run-up to Christmas, with retailers poised to slash prices by almost 50% by December 24.
Discounts will rise to a record average of 48% by Christmas Eve, according to new research by Deloitte. This could grow to 52% from Boxing Day onwards.
Last Christmas Eve, prices were cut by an average of 46.9%. Discounts currently average 43.6%, an increase of 0.3% from the same point in 2016.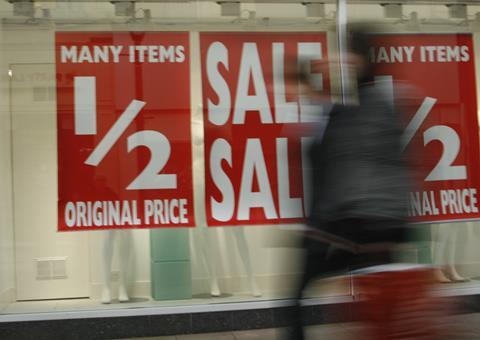 The fashion and luxury sector is expected to see particularly dramatic reductions, with two-fifths of products expected to be up to half-price from Boxing Day onwards. Last year, only a fifth of products were half-price at the same time.
Discounts across the market are extremely variable, however. While some retailers have dropped their prices by 80%, others have offered discounts of just 2%.
Price reductions have reportedly been fuelled by mild winter weather, economic uncertainty and oversupply of unwanted stock.
Deloitte lead consumer analytics partner Jason Gordon said: "In recent years, consumers have come to expect retailers to heavily discount products in the lead-up to Christmas. Christmas falling on a Tuesday, shorter Sunday opening hours and many choosing the weekend prior to Christmas to travel to friends or family will complicate the last few crucial days trading. This is why we expect retailers to ramp up their discounting earlier than normal in an attempt to clear stock."
A separate study by PwC predicts that promotional levels in the final week before Christmas will match those of the Black Friday weekend.
However, it also suggests half of multichannel retailers who took part in Black Friday returned their products to full price the following week in order to preserve profit margins.
PwC's consumer markets leader Lisa Hooker said: "Retailers are increasingly returning to full-price after Black Friday, suggesting they are getting a better handle on managing the promotion cycle in late November in order to preserve profit margins in the critical run-up to Christmas.
"As we enter the second half of December, discounting is already starting to pick up, with many retailers keen to clear seasonal stock before the end of the year."