Sales at John Lewis jumped 9.6% year-on-year last week as Christmas shoppers came out in force.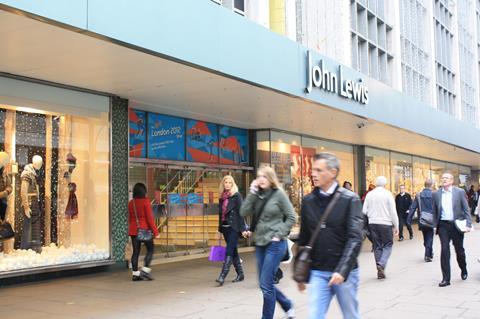 For the week ending December 3 sales at the department store chain hit £113.6m, a 15.1% rise in sales week-on-week.
Despite the year-on-year comparison being skewed due to snow causing disruption this time last year, the sales for last week were 10.9 % up on the same week two years ago.
Online sales rose 13.9% year-on-year despite sales last year boosted due to the heavy snow. The retailer said the convenience of online shopping, in particular, the click and collect service, was meeting customers' requirements.
The colder weather helped drive sales of coats, gloves and scarves as well as men's and women's cashmere, slippers and dressing gowns across John Lewis.
Director of selling operations Nat Wakely said it was no surprise that fashion had begun to take off as the weather becomes more seasonal.
Wakely added: "We expect to see continued strong sales growth as there is no escaping that Christmas is around the corner now that we are firmly in the month of December."