Retailers that return empty shops to use should be exempt from paying business rates for a year to regenerate the high street, the CBI has recommended.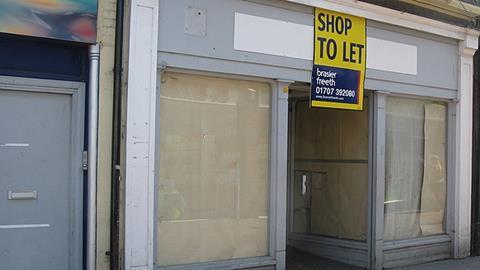 The CBI has called for incentives to be put in place for businesses that take on long-term empty properties in a report into high street regeneration published today.
The business body believes revitalising vacant shops can revive the high street. One in seven UK shops lies empty at present.
CBI senior policy adviser Tom Thackray said: "We think there needs to be new incentives to bring businesses back on to the high street.
"The business rates holiday is being looked at in Scotland and it is being implemented in Northern Ireland.
"The English Government is a bit behind the curve and could do more."
The CBI also called for parking charges to be reduced.
However, it said it was "realistic" about the reduced role that retailers may play on the high street in future. It called for the public and private sectors to collaborate to rejuvenate town centres through housing, leisure, public services and jobs.
The report also recommends simplifying planning rules to convert more retail sites to residential and evolving Business Improvement Districts into an investment body to plan town centres' futures.
A separate study by The Local Data Company and PwC this week showed that the net number of UK store closures plunged 78% in the first half of the year as charity shops, betting shops, convenience stores and coffee shops filled gaps.
Labour leader Ed Miliband this week unveiled plans for a business rates cut if the party comes into power in 2015 followed by a freeze in 2016 for businesses with properties of a ratable value of up to £50,000.
He said the revenue shortfall would be filled by cancelling a planned cut in corporation tax.
Retailers have consistently called for a reduction in onerous business rates. The CBI is calling for a 2% cap on business rates increases.