Card Factory delivered flat pre-tax profit in the year to January 31 after absorbing the rise in VAT, following a 56% hike in profits the previous year.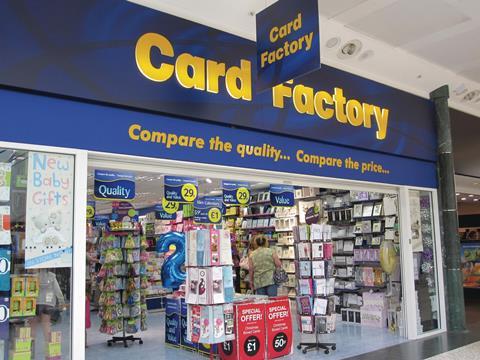 The cards specialist reported pre-tax profit up 1% to £56m in the year. The Government increased VAT from 17.5% to 20% in January 2011.
Chief executive Richard Hayes said the retailer chose to bear the VAT increase so it did not have to increase prices. "On a like-for-like basis, if you compare the figures from 2012 against 2011, if we hadn't absorbed the increase it equates to about a £5m uplift," he said.
Hayes said that despite the flat earnings it had been the right approach for the retailer. "It is part of a very sound long-term strategy," he said. "Other competitors passed the VAT increase on to the customer, which might not have done so well."
Card Factory's growth through its value-led proposition over the past few years was regarded as one of the contributors to the collapse of its main rival Clinton Cards earlier this year. Clinton was subsequently bought by a subsidiary of American Greetings.
Last year, Card Factory reported turnover up 11% to £254.3m and it added 80 stores to its estate, which now totals 611.
Card Factory opened its first stores in Northern Ireland in 2011 and now has 20 stores there.
It also acquired online business Gettingpersonal.co.uk in July 2011, which sells personalised gifts. It reports accounts separately to Card Factory. Hayes said it is "early days" since the acquisition, but he is "relatively pleased" with progress so far.
Hayes said: "We're pleased with how we continue to perform [since the year-end] in a difficult environment."