Capital Shopping Centres may not be a high profile developer but it owns more of the UK's top 30 centres than any other landlord.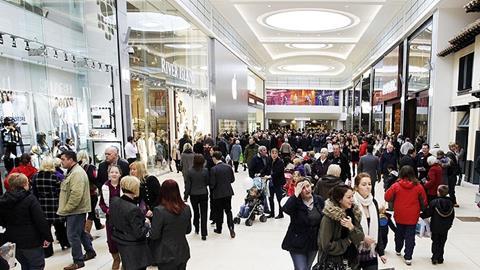 Some property developers, on opening a new mall in Newcastle, might have been tempted to go for the big-name local celebrity. Cheryl Cole perhaps.
But when Capital Shopping Centres (CSC) opened St Andrew's Way, a 400,000 sq ft extension to the city's Eldon Square mall, last month, it went for the man who reads the local news on TV.
Ostentatious CSC is not. Unlike a Westfield, for example, its name has zero recognition beyond people whose job involves the leasing of retail property. But the names of the centres it controls are much better known.
In fact, the company - part of quoted property giant Liberty International, but soon to be demerged - owns more of the top 30 malls in the UK than any other investor.
There may not have been celebrities, but if the size of the crowd is anything to go by, the £170m extension to Eldon Square is set to be a winner. Newcastle is a city that loves to shop and the extension has bought new brands like Apple, Superdry and Hollister to the centre, while giving others, such as Topshop, River Island and New Look space to grow into better configured stores. In total six of the 23 new stores were relocations from the existing centre. It is anchored by Debenhams, which has opened a four-storey flagship while at street level a more functional row of shops includes TescoMetro.
The mall opened fully let, and in stark contrast to the opening of CSC's Cardiff joint venture with Land Securities last autumn, all the stores bar Hollister were fitted out and trading on opening day.
Eldon Square is a fiendishly complex site, shoehorned into the centre of Newcastle. Getting the extension built has been a mammoth task, taking 12 years of negotiations involving the scheme's joint owner, Newcastle City Council, which in an unusual joint venture has a 40% stake in the scheme.
Yet managing director Kay Chaldecott says that the redevelopment was essential to allow the city centre to continue to meet shoppers' needs.
"We wouldn't have knocked down the mall and rebuilt it if retailers hadn't said to us we need bigger and better space in the centre," she says. It involved the demolition of a mall of smaller units, and the relocation of the city's Green Market.
Inevitably, the extension puts the spotlight on the older parts of the centre. Eldon Square was built in 1976 and looks it too, with acres of dated brown floor tiling. But the centre trades well and has an enviable tenant line-up, anchored by the formidable trio of John Lewis, Fenwick and Marks & Spencer.
CSC knows the rest of the mall is looking its age and from this month is going to start work on refurbishment, spending £2m on the floors.
Developers often talk about schemes meeting pent-up demand from retailers, but in the case of Newcastle that is undeniable. Surprisingly, given the size of the city, Debenhams has not had a store in the city for 15 years, but according to operations director Nigel Palmer who was there on opening day, the retailer trades very well at the MetroCentre - just across the Tyne in Gateshead and also owned by CSC - and has been desperate to get back into the city centre.
At the time of opening all but one of the stores being vacated by retailers relocating were re-let, with Next taking a three-level unit of about 55,000 sq ft in the former Arcadia unit in the Blackettbridge element of the scheme.
With its ownership of MetroCentre as well as Eldon Square, CSC dominates the retail property scene on Tyneside, but Chaldecott says the two centres are complementary, serving different customer bases and shopping missions.
The 1.8 million sq ft MetroCentre draws on a wider catchment from across Northumbria, and is a destination in itself. The Eldon Square shopper is younger and visits more frequently, with 77% of its shoppers visiting weekly, whereas MetroCentre might more typically be visited monthly.
Back to basics
While the acres of brown floor tiles are set to be banished, do not expect any bells and whistles. While some shopping centre owners push the boundaries of fit-out and architecture, CSC takes a rather more pragmatic view. It focuses on getting the basics right to keep service charges down.
"No retailer would say we are a high service charge landlord," says Chaldecott, who adds that taking a realistic approach to mall services allows them to keep costs to retailers down.
"We might say we don't want the floor to be so clean I can eat my dinner off it but what I do want is the floor to seem spotlessly clean to the customer."
That approach means continual work on keeping centres up to date rather than big bursts of capital expenditure. She says: "It is better having two men painting every day than doing it in one go every 10 years."
But big projects still need to be done, and some shopping centres stand the test of time better than others. The developer built three centres around the M25 between 1990 and 1992 - the Glades in Bromley, the Harlequin in Watford and Lakeside in Thurrock. While Bromley has lasted well, Lakeside aged more quickly. "It was themed like a boat," explains Chaldecott, "and that look isn't designed to be timeless." So the scheme has had £30m spent on it over the past two years, which has transformed the centre and prepared it for the new challenge of Westfield Stratford next year, but still is a relatively small sum compared with the centre's size.
Despite being highly unusual in the pinstriped world of commercial property in being run by a woman and having a largely female senior team, CSC has the image of a traditional property company. Indeed it is a place where people tend to have worked for a long time and relationships have been built over a period of many years. But Chaldecott - who has been with the business since 1984 - claims that it many respects it has been a pioneer. She claims that despite all the hullabaloo about turnover rents now, CSC was the first retail landlord to introduce them, back in the 1970s.
The issues that get the most attention as being bones of contention for retailers are not always the ones that CSC finds matter most when it comes to negotiations. "Retailers don't tend to really be bothered about upward-only rent reviews, what they are more bothered about is how flexibly they can dispose of their lease," she says.
But with the growth of online, the pressure is on to ensure retail destinations are as appealing to visit as possible. But while CSC property director Caroline Kirby says its centres have to compete for people's leisure time, Chaldecott says she doesn't expect any radical changes in the form centres take, and that it is more about doing the important things well.
"More than 75% of our shoppers are female and what they are interested in is the parking, baby changing, easy access around the centre and the toilets. Casual dining is very important too. You are not going to see us doing anything weird and wonderful," she continues.
Added services like personal shopping have worked well, as have extended trading patterns - the Braehead centre outside Glasgow has traded until midnight in the run-up to Christmas for the past three years.
The company also believes the biggest locations will hold up better than smaller towns. "We only invest in the top 50 centres," says Chaldecott, "and it is the biggest locations with the biggest catchments that are the centres which are doing better."
While she says CSC is watching the development of online retail and how it might affect stores, successful multichannel retailers will, she says, always need stores in the best places.
It has been a turbulent time for CSC's parent company Liberty International, and following a capital raising exercise last year, it will split off its office business Capital & Counties from CSC, which will continue as a standalone retail-focused company.
In practice though, it will be unlikely to have much impact on CSC. And with its eye on the UK's biggest cities and catchment areas, it should be as well placed as anyone to withstand the inevitable changes ahead in how retailers use and manage their store portfolios.
Capital Shopping Centres at a glance
£5bn: investment properties as at December 31, 2009
13: shopping centres
13.8m sq ft of retail space
275m customer visits per year
43 retailers new to CSC centres in 2009
98% CSC occupancy rate in 2009