Sharps says that its new story-based TV advert promoting its design service is a move away from "typical bedroom company ads", which usually just feature "a montage of different bedroom styles".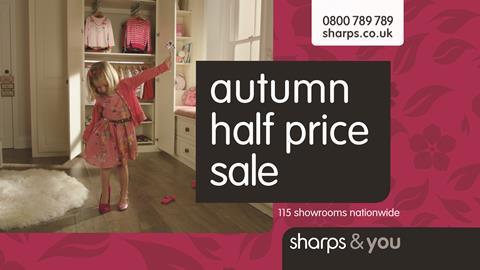 But is its campaign really that much different?
Created by retail marketing agency The Market Creative, the 30-second advert tells the story of three generations of a family as they get dressed and ready to leave the house.
The advert then cuts between mother in the master bedroom, her teenage and four-year-old daughters in their rooms and visiting grandma in an attic conversion.
The Market Creative managing director Sue Benson says: "We wanted to move Sharps away from the category norm in TV advertising by taking a more emotive, story-led approach." It's a sparse story, which is fine, but the absence of dialogue leads to silent film-style acting and exaggerated gestures – grandma, needing to borrow some shoes, signals with both her hands in a way that looks unnatural. Also, the dominant voice-over concentrating on Sharps' design service and the camera's focus on the wardrobe features mostly places the emphasis on the bedroom and not on the characters, limiting the extent to which the ad is emotive or story-led.
With neither story nor character getting much focus, the ad does actually end up feeling like a montage of different bedroom styles.
However, the story does highlight features in the bedrooms and promotes the fact that Sharps' design service can be flexible and work according to personal taste and room space – the ultimate aim of the campaign.