Morrisons' marketing has shouldered much of the blame for the retailer's woes as like-for-likes dropped off in the second half of last year before a disappointing Christmas.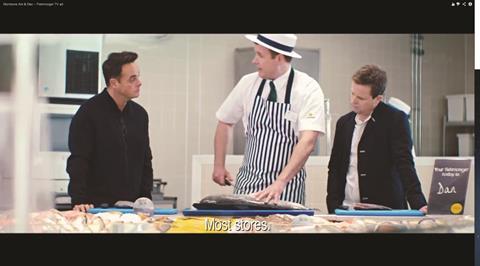 Chief executive Dalton Philips stated that the retailer wasn't "shouting loud enough about its points of difference", particularly its vertical integration.
After commercial director Richard Hodgson, who was responsible for marketing, exited the grocer in November, the under-pressure Philips has a lot riding on its new ad campaign starring TV presenters Ant and Dec.
The ads feature the Geordie duo getting the lowdown on the grocer's Market Street fresh food offer from Morrisons' specialists – a fishmonger in the first ad and a butcher in the second.
Created by agency DLKW Lowe, the first ad depicts the presenters accompanying fishmonger Dan Parr from fish counter to trawler and back again as he explains the care that goes into the grocer's fish sourcing.
As Parr is a real employee, his guided tour feels authentic.
The butcher ad follows a similar formula as the pair head to a dairy farm. Both ads clearly fulfil Philips' goal to shout loud about the grocer's fresh food offer and reaffirm the quality message with the new strapline 'More of what matters', despite some awkward staged banter between Ant, Dec and Parr.
However, it could be argued the campaign doesn't tell consumers what they really need to know about Morrisons' offer – its price position compared with rivals.
The advert fails to convey how much the fresh food highlighted costs and consumers may assume that with quality comes a premium price. A combination of clearly communicated fresh food values and an affordable price proposition will be key to bringing more shoppers to stores.