French Connection's creative new campaign puts shoppers in the director's chair to construct a film promoting its latest collection.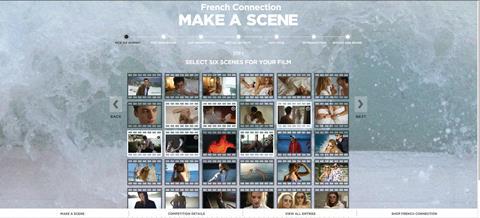 Created by agency 101, the Make a Scene campaign offers visitors to the retailer's site the chance to put together a short film from a collection of pre-shot scenes, starring actors wearing French Connection apparel.
Web users can order the clips, which include the actors frolicking on a yacht; select a soundtrack, ranging from romantic to angry; add special effects, from noir to thriller; and then write a title for the film. French Connection boss Stephen Marks said the retailer is focusing on multichannel marketing to help lift sales, and with this campaign it has got off to a great start. So far, 17% of visitors to the retailer's website have made a film since the campaign launch.
The wide range of directorial choices allows budding Spielbergs to make their film in the style of many genres, from a sentimental journey to a comedic caper. The variety of options is so vast that there is plenty of scope for users to come back and make any number of different films.
With this in mind, the more consumers play around with the interactive campaign, the more they are exposed to the French Connection lines in the scenes, which are beautifully filmed and show off the retailer's range well in exotic locations.
The site smartly ranks the films shared the most via social media, with the creators of the most liked in the running for prizes. Therefore, the playful appeal of the campaign should spread to other have-a-go directors across the social stratosphere and continue to promote the brand and its clothes.