Bargain Booze has opted for a humorous ad to highlight its festive offers.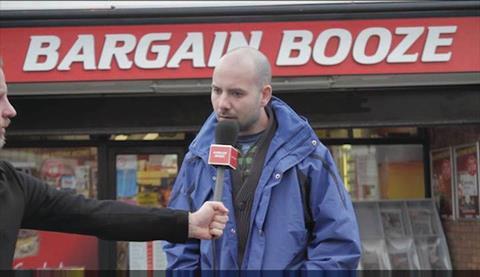 Bargain Booze's new £1m TV ad campaign is its biggest ever as it looks to boost sales in the build-up to Christmas.
Created by McCann Manchester, the tongue-in-cheek ad features several people being asked where they would shop to find deals on alcohol during the festive season. Despite being filmed in front of a Bargain Booze store, the interviewees are flummoxed and are unable to answer the question, even when given the clue "It starts with a 'B'".
The rather wacky ending features a pensioner randomly suggesting the answer 'Norwich' and the text 'Bargain Booze, over 600 stores nationwide', highlighting the retailer's local convenience through its store numbers. The campaign gently pokes fun at the idea that people don't automatically think of the discount drinks retailer as a place to go for beverage offers, despite its name highlighting exactly what it does, while the humour fits with Bargain Booze's unpretentious brand identity.
As well as being genuinely funny, at least for the first few watches, the ad also promotes the off-license group's specific deals, such as beers and ciders for £6.50 a case. The offers are delivered as clues for the interviewees and therefore don't interrupt the ad's flow, spoil the campaign's joke or come across as being shoehorned in.
Bargain Booze marketing director Adam Burnett says the campaign's aim is "to drive footfall, increase volume sales and attract new customers" by promoting the retailer's deals and local convenience. The ad clearly and humorously highlights both and gives consumers a reason to shop at Bargain Booze.