Earlier this year the big grocers attempted to plug the gap in the market left by FMCG giant Kimberly-Clark after it pulled its Huggies brand from the UK by embarking on an advertising offensive.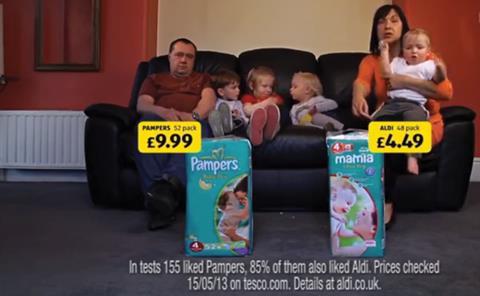 Now discounter Aldi is aiming to get a share of the spoils.
While Sainsbury's approached its campaign from an emotive angle and Asda emphasised the quality of its products alongside a competition, Aldi's approach is comparatively simple and direct.
The advert shows a mother and a father on the sofa with their four energetic children.
In front of them are two packs of nappies: one Pampers and the other Aldi's Mamia brand. The mother points to both separately and says each time: "We like these because they are very absorbent." Both times the price of the respective products is revealed on screen.
Consistent with Aldi's continuing campaign straplined 'Aldi. Like Brands. Only Cheaper', the point is well illustrated that the own brand for £4.49 is as effective as the tried and trusted Pampers brand at £9.99.
Created by agency McCann-Erickson, the 20-second ad is brief and to the point, but a very funny punchline stops the proceedings from flying by a little too quickly and being forgettable. The mother turns to her partner and asks:
"We like these, don't we, Jim?"
He wearily responds: "I'd like a vasectomy," causing one of the children to giggle.
Although there is plenty to commend competitors Sainsbury's and Asda on for their colourful campaigns, Aldi's more succinct, price-led ad might give shoppers a clearer reason to pick up its nappy brand instead.