Chancellor Rishi Sunak has unveiled a raft of measures to reduce business rates but stopped short of fundamentally overhauling the system.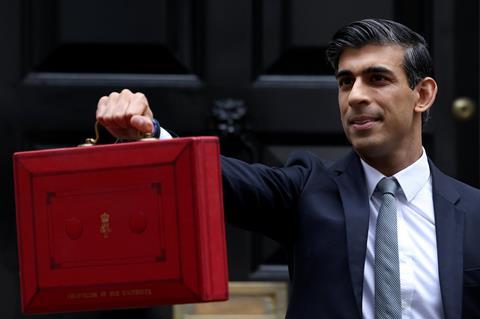 In his Budget statement, Sunak maintained the changes would cut business rates by £7bn, but that it would be "irresponsible" not to retain them overall because they are worth £25bn.
Instead, Sunak revealed "key reforms". There will be more frequent revaluations, every three years, which he said would make the system fairer. Investment relief will be available to reward green initiatives, such as the installation of solar panels, as well as improvement relief which will be offered for 12 months following enhancement of premises - the latter lobbied for by the BRC and other business groups.
Subak also cancelled next year's planned increase in the business rates multiplier and said businesses in retail, hospitality and leisure would be entitled to a one-year business rates discount of 50%.
Mixed reaction to Sunak's Budget
The changes are likely to be welcomed by retail chiefs, although there will be some disappointment that there has not been a fundamental overhaul of the system, which they believe imposes an unfair burden on the industry.
British Retail Consortium chief executive Helen Dickinson said: "Today, the Chancellor spoke of a new age of optimism, but retailers will struggle to share his confidence after a Budget that does not do enough to reduce the burden of costs bearing down on our shops, our high streets and our communities.
"This budget is a missed opportunity for retail and the three million people who work in the industry, and it prevents retail from maximising its contribution to the government's levelling up agenda."
On the government's failure to fundamentally reform business rates, she added: "While the Government's 50% bridging relief for 2022/23 may prove to be beneficial for the smallest businesses, it will do little to support the businesses that pay two thirds of retail business rates and employ 1.5 million people. With no reduction in the burden, this will lead to the unnecessary loss of shops and jobs and fails to incentivise investment in all parts of the country. This is bad news for every member of the public who wants a vibrant high street in their local community, with retail at its heart."
Convenience store trade group ACS chief executive James Lowman said: "It was great to see the Chancellor announce action to incentivise investment through the business rates system, something we have been calling for in our discussions with ministers for many years. The 50% relief on 2022/23 business rates is a significant step towards our recommendation for a full exemption for premises under £51,000 rateable value.
"While these measures are welcome in the short term, they must be supported by long-term reform of the business rates system that ensures that retailers can focus on driving growth, efficiency and productivity."
British Property Federation chief executive Melanie Leech said: "The package of measures the Chancellor has announced on business rates relief will bring some welcome temporary relief to our high streets but demonstrate how badly further, fundamental reform is needed.
"While a move to three-year revaluations is welcome, we continue to urgently call for annual revaluations. Businesses need to see long-term reductions in the rates they pay rather than short term fixes. The current practice of downwards transitions needs to end and would give high streets an £8.5bn boost and enable them to forward plan and protect jobs.
"We are pleased that the Chancellor has also responded directly to the BPF's call for business rates relief to encourage building improvement and to support the transition to net zero. This will give a significant boost to investment in revitalised, more sustainable town centres."
New West End Company boss Jace Tyrrell said: "It's encouraging to see the Chancellor finally act upon the need to reform the business rates system. Cancelling the inflation-linked rise to the multiplier may ensure that rates won't go up this year, but they are still too high.

"A 50% discount for the retail and hospitality sectors will help some struggling high street businesses, but not all. By capping the 50% high street discount at £110,000, the benefit means little to city centre businesses. For a store in London's West End, it will result in less than a 1% cut in their business rates bills for just one year.

"This only results in a cut of around £1bn each year on a £25bn business rates bill - the equivalent of a 4% cut. This falls far short of a fundamental review and is a very disappointing outcome."

"It does little in the long term to meet the Government's manifesto commitment to reduce the burden of business rates."