Next boss Lord Wolfson is backing the Brexit campaign and believes Britain will be more prosperous out of the European Union.
The UK goes to the polls in June over whether or not to remain as part of the EU, with the debate raging among politicians and business leaders.
A number of high profile figures have come out in support of both the out and in camps and Marks & Spencer boss Lord Rose is spearheading the Britain Stronger in Europe campaign.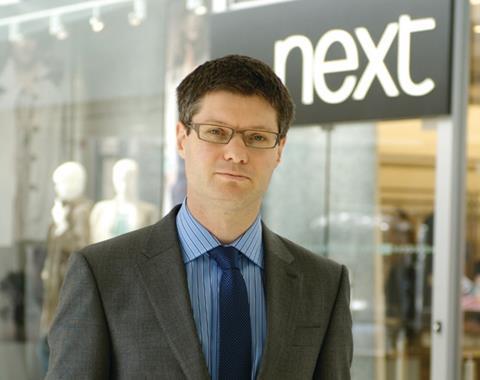 However, Wolfson has openly opposed Rose by speaking out in favour of a Brexit. Writing in The Times on Saturday, he said: "Over the next four months people will debate the economic pros and cons of Brexit. On balance, I think we will be better off out.
"Economically, it is a finely balanced decision and no one can be absolutely sure because so much depends upon hypothetical post-Brexit policies.
"But one thing is certain: whether Britain leaves or stays, our prosperity will most depend on liberating ourselves from our own pessimism."
Lord Wolfson claimed that "radical change" to the UK's financial institutions was needed and that without it the UK was "heading for a long era of low growth".
He said that although the "FTSE 100 index is largely unchanged on where it was four years ago", its collective profits have dropped by more than 30%.
"When people ask why the markets have fallen, they are missing the point," Lord Wolfson said. "Why have they not fallen further? It is almost certainly because low interest rates are propping up share prices.
"… rightly or wrongly, central banks have resorted to low interest rates because real-world investment opportunities are so limited. Low interest rates are a symptom of a supply side problem, not the cause.
"But corporate failure to invest is not a collective mental block. Companies tend to be run by people whose instinct is for them to invest and grow. The underlying problem is the lack of opportunity, which has been caused by the unconscious restraint of government itself."
Lord Wolfson instead blamed the FTSE's problems on "government at every level from local council to parliament unwittingly chip[ping] away at our nation's ability to grow over the past 25 years.
"While central banks push on the accelerator, legislators press harder on the brakes. The relentless flow of regulation and a debilitating planning system is steadily undermining investment.
"The EU has only added to regulatory costs but don't think that over-regulation is just about the EU — our own legislators are as much to blame."
Wolfson added that retail, the housing market, transport and free trade were all areas in which government was holding back the UK.
Government 'dragging its feet'
"Trade is another area where we (and our EU partners) have dragged our feet," he wrote. "Much is made of free trade within the EU, but what about free trade with the rest of the world, starting with China and India?
"Britain's anti-growth sentiment boils down to a deeply pessimistic view of what our generation can achieve: that we cannot build better than our forefathers; that we cannot compete in an open global economy. But a nation that wants to stand still is a nation in decline.
"If we want our companies to start investing again, we must put aside such fears and place our trust in the collective intelligence and endeavour of Britain's 30 million-strong workforce."
Lord Wolfson's stance on Brexit is a stark contrast with a number of retailers.
A letter signed by almost 200 business leaders last month – including the bosses of Asda, M&S, Dixons Carphone and Kingfisher – warned that leaving the EU would "deter investment" and "threaten jobs".
Retailers that employ a significant number of foreign workers, such as Sports Direct, have also been warned that they could be adversely affected by visa issues.