Boots has opened its first pop up Christmas store on Oxford Street as it relocates one of its shops on the famous shopping destination.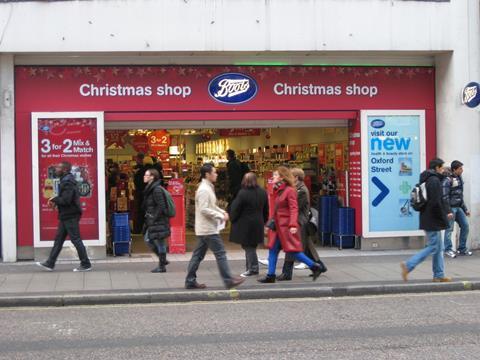 The health and beauty giant has moved from its 621 sq mt store at 151 Oxford Street to 193 – a larger two-floor store at 753 sq mt.
The pop up shop – a first for the retailer - is located in the former Boots store at 151, and will trade from about 200 sq m. The shop will open tomorrow (Saturday) until Christmas.
A Boots spokeswoman said: "The Oxford Street pop-up Christmas shop provides us with a great opportunity to bring a wider range of Boots Christmas products to our customers in Oxford Street and complements the full range we have on offer in our Sedley Place, Oxford Street store.
"It enables us to test the opportunity pop-up shops might bring us at Christmas time."
The new permanent store at 193 is located close to Oxford Circus underground station. It includes a pharmacy and services including a Body Mass Index (BMI) Machine, Cervical Cancer Vaccination Service and Flu Vaccination. It also features an order and collect service.
Store manager of the Boots 193 Oxford Street branch Rita Modha said: "Our new, relocated, Oxford Street store demonstrates Boots UK's commitment to investing in the local community and putting our stores exactly where our customers want them.
"We're really excited about this opening and helping customers feel good about themselves, through offering expert advice on treatment and what they can do to help prevent health conditions.
We offer a wide range of health and beauty products and we're very much looking forward to welcoming customers into our new store."