Made.com and Oddbins have launched tongue-in-cheek campaigns against Black Friday as they refuse to participate in the sales frenzy.
Online furniture retailer Made.com has led the way with a social media campaign centred on a series of lighthearted video clips, which highlight some of the welcome and less welcome exports the UK has adopted from the US.
Doughnuts, jeans, supersize burgers and the Kardashians all feature in the colourful video titled 'Black Friday? No ta'. The clips will be circulated on Made.com's Twitter, Facebook and Instagram channels from tomorrow.
The move reaffirms Made.com's staunch position on Black Friday after boss Ning Li spoke out against the trend last year.
Made.com's UK boss, Annabel Kilner, said: "While there are many things we like about American trends coming to the UK, Black Friday is not one of them. Black Friday discounts highlight the huge mark ups consumers pay on products at other times of the year.
"At Made we operate on a lean business model, so that we can offer customers original furniture design at affordable prices all year round, not just during the extended Black Friday sale period."
Oddbins has also voiced its concerns about the sales bonanza, claiming the day of "artificial discounts" does shoppers "a disservice" and "harms the UK retail sector".
The wine and beer merchant has launched a marketing campaign promoting a host of '0% off' deals at its stores across the UK.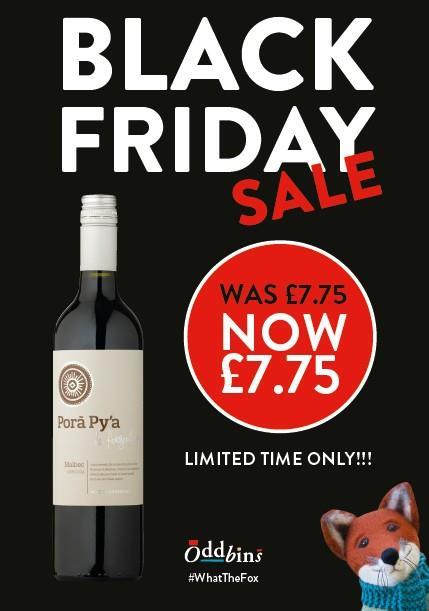 Oddbins managing director Ayo Akintola said: "We will offer fantastic wines, beers and spirits at exactly the same great prices, be it yesterday, today, tomorrow, on Black Friday and beyond.
"We will not offer artificial discounts, attempt to get rid of wonky stock, cannibalise our own sales or pressure our customers to jump, like lemmings with credit cards, into the collective madness of Black Friday.
"There are lots of great American imports – Netflix, Ben & Jerry's, Oregon Pinot Noir, Boris Johnson, to name a few – but Black Friday isn't one of them."
The stances of Made.com and Oddbins come after Walmart-owned supermarket giant Asda, which was credited with bringing Black Friday to the UK, stepped back from the promotional extravaganza.
Its big four rival Tesco is also shutting its Extra stores at midnight and re-opening them at 5am to give staff more time to prepare for the rush of customers. Both grocers suffered negative media coverage following last year's event as fights broke out in stores and police had to be called to a number of shops.
Other retail chiefs, including John Lewis boss Andy Street and Home Retail chief executive John Walden, have also voiced their concerns about Black Friday, claiming it simply shunts festive sales forward without creating extra revenues and makes the crucial Christmas trading period unpredictable.