The new director of Carpetright's beds business, Sleepright, is passionate about the sector that has given him a second career, and is looking forward to working with an 'icon in the industry'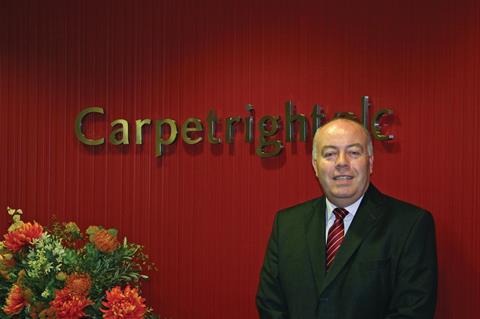 If as a teenager he had been given the all-clear by doctors, Bill Carrahar, the new boss of Carpetright's beds business, might by now have been a top-ranking officer in the military.
But Carrahar – whose asthmatic chest stood in the way of him following in his father's and brothers' footsteps – instead opted for the world of business, landing a job in accounting. But it didn't last long.
"I thought in accounting I would earn a lot, but the job was too much sat still at a desk," he says. "I'm a noisy, boisterous sort."
He soon joined furniture supplier Lister Mouldings and was promoted to managing director by the tender age of 27. Does Carrahar – appointed Sleepright director, as revealed by Retail Week last week – regard himself as an ambitious person? "I'm ambitious for success, but not for a particular position," says Carrahar, who says he is driven by "helping get the best out of the team around me and keeping them motivated".
The likeable Carrahar is also motivated by "finding new ways of doing things". He adds: "I'm quite a creative and imaginative person."
For instance, Carrahar wants to avoid talking to customers about "the number of springs and depth of foam" in mattresses. "We need to find new ways to cope with the way the consumer is changing. We have to excite in store," he says.
Carrahar's retail career is fairly short compared with most bosses in the industry. His first retail position was at Steinhoff-owned Bensons for Beds in 2005, which he left earlier this year.
Before that he worked in furniture manufacturing, when he was inspired to make the move into retail by Lord Kirkham when he worked as a supplier to DFS.
He says: "I admired Graham, and got an inside view of how DFS operates. They are highly professional at everything, and an outstanding sector leader."
And Carrahar saw the DFS operation from the supplier side. "He was a very tough negotiator but extremely knowledgable on his product. Out of a dozen sofas he knew which one would sell."
So was the transition from manufacturing to retail easy? "It was much harder than I thought," recalls Carrahar. "The grass isn't always greener."
However, although Carrahar says it has been a "steep learning curve", he has not looked back.
"Once you've crossed over, it's a little bit addictive. I like the buzz, and the immediacy is quite different to manufacturing. But I still have a lot to learn in retail. I'm nowhere near the finished article."
Lord Harris of Peckham, the founder of Carpetright and one of the most revered of retailers, should help to smooth out those edges. Carrahar describes his new role at Carpetright as a "real opportunity, not just to work with an icon in the industry in a very active business, but there's a real team there".
He adds: "Lots of people are infected with his [Lord Harris's] enthusiasm. We live the job, it's our passion."
Carrahar, born and raised in South Shields, South Tyneside, is a passionate retailer, but he has plenty of interests outside work. He is a "keen rugby man", having played for Wasps as an amateur when he was younger. He enjoys cricket too – another sport he played in his youth.
He also plays the piano and is an amateur magician. "The trouble with magic," laughs Carrahar, "is everybody wants new tricks." Lord Harris will certainly be hoping that the conjuror will sprinkle some of his magic on Carpetright's new beds venture.
Bill Carrahar
Family Lives in Harrogate, north Yorkshire with his wife. He has two children
Plans for Sleepright by Carpetright:
Five Sleepright stores have been acquired to launch the chain, the first of which will be in Uddington, outside Glasgow, in November, at 10,000 sq ft (930 sq m)
The existing Sleepright offer within Carpetright stores will also be revamped
Carrahar was hired along with former Bensons for Beds director Paul Burgham to lead the business