Tycoon's knighthood remains at risk, Frank Field maintains
Comments come on anniversary of BHS's collapse
Green has already made a £363m voluntary contribution to BHS pensioners
Former BHS owner Sir Philip Green "has not done enough to hold on to his knighthood" according to MP Frank Field.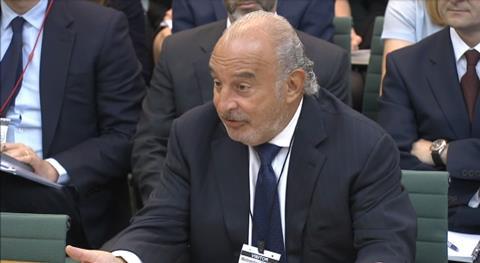 Field, who led the Work and Pensions Committee's investigation into the collapse of BHS, said MPs will continue to pursue the tycoon.
The MP argued that Green still faces questions over how he dealt with the BHS pension deficit and said he would continue to seek answers, City AM reported.
Field said: "When Parliament comes back from the election we need to pursue the charge sheet from the Pensions Regulator against him and what the Pensions Regulator got in return." said the veteran MP.
One year on
Field made his comments on the one-year anniversary of BHS's fall into administration under the ownership of Dominic Chappell, to whom Green sold the department store group for £1.
The circumstances of BHS's sale and collapse were subsequently the focus of a number of inquiries and there were calls for Green to lose his knighthood.
In February, Green made a £363m voluntary contribution to BHS pensioners who were likely to be among the biggest losers from BHS's demise.
Field said that the Prime Minister is waiting for all reports on the BHS affair to come in before making a recommendation to the honours forfeiture committee.
No comment was available from Green.