The jeweller's investment in online has helped its figures shine once again.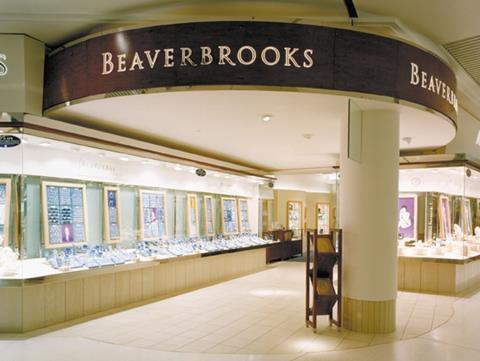 The family-run company revealed polished pre-tax profits, up from £3.7m to £4.9m for the year to February 2011 – the kind of figures not seen since 2008. Sales increased 7.1% to £86.9m, despite closing one store in the period.
The performance bolstered Beaverbrooks' ranking as the third biggest UK jeweller, behind larger groups Signet and Aurum.
The Beaverbrooks business was founded in 1919 under the family name Adlestones, by three Adlestone brothers – Isaac, Maurice and Harry. The first store opened in Belfast, despite the retailer's roots in the North.
The retailer eventually moved across the water to open offices in Manchester, where Adlestones was first registered as a company.
The business rebranded to Beaverbrooks in the 1930s, when it opened a store in Oldham Street, Manchester. The brothers were inspired by famous newspaper tycoon, Lord Beaverbrook. They believed the name symbolised the retailer's honest business approach.
After rebranding all stores to Beaverbrooks in 1999 the retailer drove growth, launching a transactional website in 2001, posting a 100% sales advances year-on-year, while opening stores, which now total 64 nationwide.
However, sales began to wane in 2005/06 and operating margins were squeezed, falling sharply from 11.3% in 2005 to 4.3% in 2006 and a low of 3.8% in 2007. The 2007 figure plummeted to 1.4% when exceptionals such as gains from property deals were excluded.
A regular in The Sunday Times 100 Best Companies to Work For list – taking the number one spot in 2009 – staff costs started to hit profits in 2004 and continued to do so. It posted management staff cost to sales ratios of more than 30% in 2007/08. Across the next two years the retailer reduced this to 26%, keeping it level in 2011 as it reduced headcount slightly. In 2011, it dropped to 17th position in The Sunday Times poll.
In 2009 the retailer posted a record pre-tax profit low of £177,000 against 2008's £4.6m, as the recession took hold and discretionary and big-ticket items were badly hit by shoppers cutting back. Beaverbrooks is still far off its pre-tax profit high of £11.9m in 2004, and going by the performance of its competitors, the market is still volatile.
Upmarket rival Aurum posted an 11% sales increase and a 16.6% surge in like-for-like sales in the year to January 2011. However, US jewellery giant Signet, which operates 540 stores in the UK across H Samuel, Ernest Jones and Leslie Davies fascias, has not seen an uplift in sales since 2008 as customers continue to be cautious. Its pre-tax profit fell to £129.3m from £152.1m in the year to January 2011.
While the overall market may still be erratic, Beaverbrooks' online business is still growing, and is fast becoming the jewel in its crown.
Having been one of the first jewellers to launch online, it continues to invest in the channel. A revamped website went live in 2010 and a jewellery range was introduced exclusively online in 2011.
The retailer has historically declined to give an indication of how much it turns over online, but Retail Week Knowledge Bank estimates its web channel would have generated around £5m in 2009/10, rising to £7m in 2010/11.
With a tough trading environment set to last in the short term, Beaverbrooks will need to find more efficiencies across its operations, and staff cost ratios will be the likely target as both Signet and Aurum perform better on this metric.
Online will also continue be a focus and possibly store expansion too – its rivals continue to dwarf it in terms of store numbers – to enable it to continue shining.
Golden boys
Chairman Mark Adleston
Chief executive Daniel Brown
Number of employees 750
Sales per employee £115,925