Barratts will release an iPhone application to coincide with the opening of a new concept store on London's Oxford Street this month.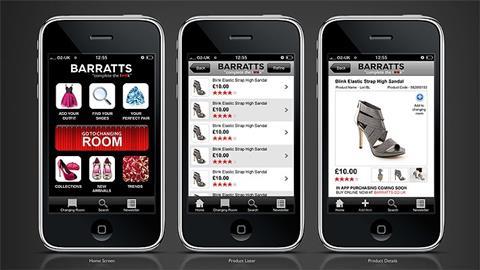 The application will go live the same day as the opening of Barratts' Oxford Street store on March 25.
The app will present the entire season's collections, searchable by occasion, like weddings, evening dress, casual wear, or by brand and a Barratts Changing Room, where clothes images can be uploaded to mix and match against shoe styles.
The app will also include a 'birthstone' finder with related colours and styles. Customers will be able to send their outfit choices to friends via email, text message and Facebook or upload their 'completed look' to a competition on the Barratts website.
The application, developed by Infogain, is designed to appeal to female users, following a customer survey and female staff research.
Barratts e-commerce director Ken Platt said: "We wanted to give customers an exciting mobile proposition, delivering a compelling, reliable service but with plenty of engaging, quirky features to help us extend our brand reach into new consumer bases."
By the end of April, the app will be transactional for click-and-collect, loyalty recognition and voucher fulfillment with scannable barcodes.
It will be extended to other smartphone platforms including Android and Blackberry later this year.
Barratts hopes the app will allow it to take advantage of mobile revenue channels, acquire customer data and implement inexpensive targeted loyalty programmes.
Barratts' Oxford Street store is the first of six stores to undergo refurbishment. It will feature defined departments, fashion focus areas, and will be merchandising by 'story'/trend and materials such as wood and white shelving for warmth and cleanliness.