Customers shopping at womenswear chains Oasis, Warehouse, Coast and Karen Millen can now pay for items by PayPal in-store using their mobile phones.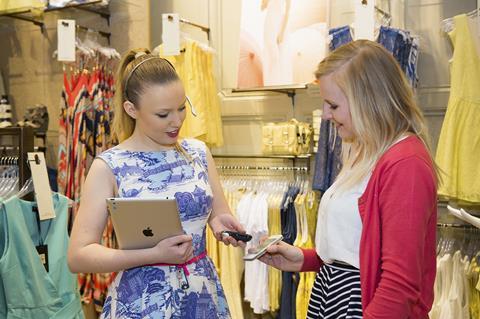 Aurora Fashions, parent of Oasis, Warehouse and Coast, and Karen Millen has joined forces with PayPal to allow customers to use the PayPal inStore app, available for Android and Apple iOS devices, to pay for their purchases in shops.
The service launches nationally at all four fascias from tomorrow (May 31). The app provides customers with a unique barcode and transaction number, which the shop cashier scans to take payment from the customer's PayPal account.
Payments, refunds and discounts are all managed via the app. Customer data is safeguarded because shoppers enters a PIN to open the app and no personal or financial information is stored on the phone.
The app works when there is no mobile or Wi-Fi signal and customers can also request a refund in-store for items bought online or in any branch.
"Customers demand more from physical stores: outstanding service and a more personalised experience enabled by new technology," said Ish Patel group omnichannel director at Aurora Fashions.
"Catering for payment flexibility is a now a crucial part of ensuring we are providing customers with a seamless experience by merging digital commerce with physical retailing."
"We've created a simple, secure way to use a mobile phone to pay in your favourite stores," added Cameron McLean managing director at PayPal UK.
"The lines between the online world and high street will soon disappear altogether: research we carried out last year amongst major retailers suggested that 2016 will be the year you won't need a wallet to shop on the British high street. A phone will be enough."