Asda opened a mould-breaking store on Monday, which will be a blueprint for wide-ranging changes in other shops if successful.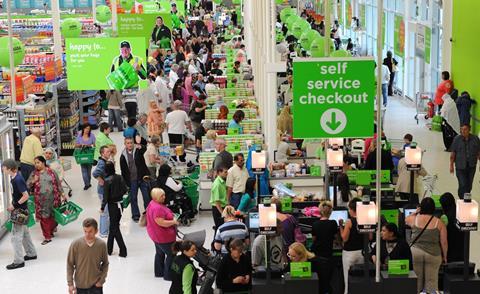 Innovations at the store in Keighley, West Yorkshire, include the first Asda Direct ordering desk, a digital queue-management system and more self-service tills than conventional checkouts.
The changes are designed to improve customer experience and business effectiveness as the Wal-Mart-owned retailer pushes its strategy of low prices based on as efficient a model as possible.
An Asda spokeswoman said: "We're excited to be trialling some new innovations and once we have seen how they work we'll work out where to go from there."
The debut Asda Direct desk enables customers to order and collect in-store. Not all products will be stocked in the shop, but customers will be able to pick them up at a later date. The initiative pitches Asda against Tesco Direct and Argos.
The shop has 14 standard tills, 18 traditional self-service points and four new, belted self-service checkouts. The latter allow bigger basket shops or small trolley shops.
"Sometimes shoppers want to use self-service but have too many items and it is awkward. The larger ones will help with this," the Asda spokeswoman said.
Two self-service checkouts are by the kiosks at the front of the store, for use by shoppers purchasing items from the food to go range, eliminating the need for them to go into the main shop.
Another element being tested is digital queue management, which the spokeswoman said will be used to monitor the number of customers at checkouts so rotas can be planned effectively and the right number of colleagues are on tills at all times.
Retail Knowledge Bank senior partner Robert Clark said: "Asda needs to make sure it keeps up with the other grocers in store refreshes. In its heartland it is competing head-on with Morrisons, which has refreshed its look in the past year and looks really up to date."
Separately, Asda will open its pilot home shopping centre at Morley in August, allowing staff to pick product for home delivery.