Asda has said it would consider using vouchers again as part of its promotional mix after revealing it was "pleased" with the response from its unprecedented coupon offer last week.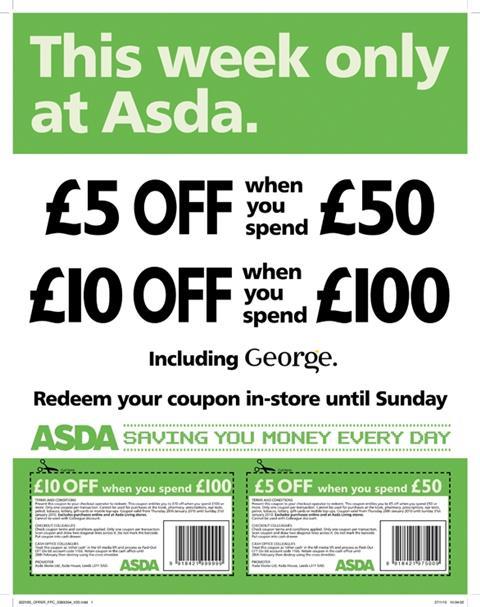 The grocer took out ads in the national newspapers last week offering discounts on amounts spent in stores in an attempt to woo back customers who had switched to convenience stores during the snowy weather at the beginning of the year.
A spokeswoman for the supermarket would not reveal figures but said "the response from customers has been great".
Asda has traditionally focused on its Every Day Low Price
pledge, avoiding vouchers and
loyalty schemes.
The move coincides with Asda's market share slipping in the 12 weeks to January 24 after a resurgence from Tesco, according to Kantar Worldpanel, formerly TNS. Asda's market share fell by 0.1% year on year, to 16.9%.
One source said Asda had seen the success rival Morrisons had over the Christmas period with its voucher scheme and wanted to see how a similar offer would work for its customers.
The source said: "Customers are increasingly promiscuous and they [Asda] have an open mind to try new promotions after loyalty played a big part in the success of Morrisons and Tesco at Christmas. They won't lose sight of everyday prices but they may well try some different offers to test the water."
Some analysts believe that the weaker performance indicated in the Kantar figures may have been driven by regional presence and lack of convenience stores during the bad weather, but if the weakness were to continue Asda would compete aggressively to regain share.
According to Kantar, rival Morrisons recorded its highest ever market share in the period of 12.5%.