Argos is six months into a five-year transformational plan. Managing director John Walden talks to Rebecca Thomson about the retailer's journey to become a digital leader.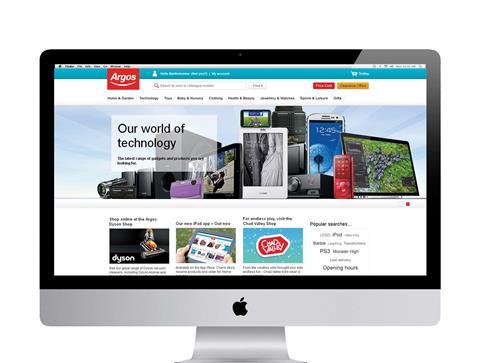 The scale of the challenge that was facing Argos just a year ago gives some idea of the extent of progress since.
In the year to February 2012, like-for-like sales slid 8.9% - the fourth consecutive fall in like-for-like figures - and operating profit dropped to £94m from a high of £376m in 2008.
The downward trend seemed clear, but in the past 12 months Argos has achieved what many thought unlikely - last week it reported its first like-for-like sales rise for five years, of 2.1%, while operating profit rose 6% to £100m in the year to March 2. There's still plenty of work to do and it's possible some of the hike is attributable to the demise of competitor Comet. But it's a good start for John Walden, who joined the retailer as managing director in February last year.
The former head of online at Best Buy spent the first six months mulling his ideas for the business, and in October last year unveiled a digital overhaul. Six months in, everything appears to be going to plan.
"So far it's going well," he tells Retail Week. "It's early, but we've still made good progress. We're in shape to accomplish the things we set out to accomplish this year."
Looming challenge
Walden admits the scale of the task ahead loomed when he joined. "The biggest challenge we faced going
into the year was to develop a way forward, a strategic plan, and improve the performance of the business. I feel very good in terms of what we've achieved," he says.
That achievement has involved starting to reposition an embattled business with a traditional high street store network as fully digital, but Walden is reluctant to get bogged down in terminology. "I don't think of us as multichannel or omnichannel, because I think that puts you in a frame of 'how do you take a traditional retailer
and turn them into something different?'" he says.
"We are going to be a digital business, period. We want to be a digital retailer, and the other channels exist to support that digital relationship."
What that business will look like is very different to the catalogue and store-reliant retailer Argos was known as.
The catalogue will be smaller, is being developed in a digital form and will be a less central component of the retailer's offer - instead it will play more of a supportive role.
"The catalogue will have a new role," Walden says. "We won't get rid of it, but it will evolve to be smaller and perhaps more seasonal."
The store format is also set to change - Argos is to pilot shops that are "more digital looking, more modern, with more technology", Walden says, including a focus on reducing queues.
Walden expects the majority of transactions to eventually begin online. "We believe that by the fourth year of the transformation, we would expect at least 75% of our business to be done digitally, with the main transaction taking place digitally." Most of those orders, he adds, will be collected in store.
Multichannel purchases
The transformation won't stop at online transactions, however - nearly all purchases will be multichannel in some way.
Walden says: "I wouldn't be surprised if close to 100% becomes multichannel, although it won't ever be 100%."
He believes there will always be customers who walk into a store and order there and then, and that there's no way to predict whether store-only transactions will be 10% or 25% of the total.
The coming year will be another busy one. New mobile and tablet apps are planned, as well as fast-track store collection for online orders that should help with the queue cutting. Argos is also working hard on improving availability and a range of investments in technology infrastructure are planned.
"The infrastructure needed to support many channels requires a central infrastructure that is very different to the one we had," Walden explains. As part of that, the retailer is working on its supply chain systems and is building a common repository for data, which will give staff a single view of customer information, a single place for customer orders, as well as databases for product information and prices.
Half of the £300m investment for the transformation plan is being spent on technology, and Walden says the aim is for the new infrastructure to be built in such a way that makes it possible for the retailer to adapt to future changes as it evolves. "We hope it will be flexible," Walden says. "The flexibility will be seen largely in the customer experiences we offer. The infrastructure will have a longer life because we are building flexibility in."
The focus at the moment is ensuring a customer's experience is consistent across the channels, making sure they feel they are dealing with the same company across mobile, stores and online. But eventually, Walden says, a customer's transaction will be interchangeable across the channels. "We hope over time it will be more than just consistent - it will allow customers to pick up where they left off. So they can start on the site, continue to the tablet and pick up their order in store."
He believes there will be a high number of different customer journeys for Argos shoppers but says: "The one journey we are confident will continue is the journey to transacting digitally and collecting in store. That is already a big part of our business and in the future it will be the strongest area of growth."
Cultural shift
One big challenge for retail bosses repositioning their businesses for a digital environment is the cultural change required. John Lewis managing director Andy Street has spoken of the work the retailer undertook to get everyone on board for the department store group's multichannel shift, and it can be a challenge to communicate the benefits and reasons for change.
But Walden says this hasn't been an issue, despite initial apprehension. "When I joined 15 months ago I wasn't sure what I would find - our colleagues had had four years of difficult performance," he recalls.
"But I have been very pleased with what I've found. Our colleague base is anxious to make a difference and has been very supportive of the new strategy and excited to be part of it."
He is similarly upbeat about finding the skills needed to push through this transformational, technology-based plan. Retail leaders including Nick Robertson of Asos and Scott Weavers-Wright at Morrisons.com have spoken of how difficult it has become to find staff with the right skills, but Walden says Argos' story has proved persuasive.
"There are resources available," he maintains. "We have to be creative in how we access those, but we find the plan we have is an attractive story for colleagues to be a part of.
"Our ambitions in the digital space are a bit more aggressive than [those that] most traditional retailers are undertaking, so we have been able to acquire the talent we need."
In addition, Walden says, staff at Argos are not short of ideas. Other retailers, including John Lewis and Tesco, have worked hard to cultivate a culture of innovation with events such as hackathons, where developers get together to generate ideas.
Walden is considering similar such ventures where appropriate. He says: "You need to be specific in what you intend to accomplish with those things. I'm not a fan of doing things for PR's sake - only if they move things
forward," he explains. "If they're too broad they get out of control and lose focus. Smart leaders will use them to accomplish things in specific areas."
Positioned to win
For now the priority is on continuing to prepare the company for growth by working on infrastructure, at the same time as trying out some new services.
Walden insists he is confident in Argos' ability to thrive in the future. "We are better positioned than virtually anybody we can think of to win in a digital future. We are building the foundations this year, preparing for more significant growth in the future," he maintains.
Questions have often been raised in the past about the retailer's large store network - it has 737 stores - but Walden says the distribution network the shops provide will remain crucial.
"We don't believe that home delivery will be the dominant fulfilment mechanism for orders online in the future.
Store collection will be the predominant method of collection," he says.
But while it's easy to be convinced by Walden's arguments - especially after the recent improved performance - some argue Argos' turnaround plan should have started years ago.
Panmure Gordon analyst Philip Dorgan said of the latest figures: "While these results are clearly significantly better than we anticipated a year ago, we think that Argos' turnaround will take too long. We also believe that - as with many traditional retailers - [Argos owner] Home Retail is making a virtue out of a necessity in that it is building a substantial store portfolio into an online model. Long term, we think that this will fail."
It's true that Argos' profits of £100m are a long way off 2008's peak of £376m, but Walden is confident in long-term success. The business is responding to the digital challenge with all guns blazing - if it doesn't work, the retailer can't be accused of not trying. Argos' response to the multichannel step-change looks brave, and is one other retailers will doubtless be watching to learn any lessons.
Argos' transformation so far, and what's to come
The website was relaunched in October, including the introduction of a one-click Check & Reserve service.
An improved mobile site and iPad app were launched just before Christmas.
Trials began in January of its 'hub and spoke' distribution model, which utilises stores to improve fulfilment.
Trials of a smaller physical catalogue format started in January, carrying a reduced number of product lines. Extended ranges are now available online.
Multichannel sales now represent 51% of the total - Walden says this will eventually become close to 100%.
This year, Argos plans to develop a digital catalogue. The first will launch before Christmas. The in-store printed catalogue will be eventually replaced by touchscreen computers.
In-store wi-fi will be introduced this year.
A fast-track collection service for goods ordered online and picked up in store will be introduced.
Work will continue this year on improving the retailer's technology infrastructure, including improvements to supply chain systems, and on a central data repository.
By full year 2017, Argos expects 75% of sales to be digitally led.
Some stores will close as leases expire, at a rate of about 10 per year, with 75 in total closing.