Tesco's top brass have updated on the progress being made on reinvigorating the business. Here we draw out some key points.
The Tesco brand is being revitalised
Chief executive Dave Lewis aims to better differentiate Tesco and fully re-establish trust following the decline in fortunes that precipitated his arrival and the financial scandal he soon found himself confronting.
He has adopted what he calls a 'five Ps' model – encompassing purpose, proposition, product, price and place – and there are signs that the strategy is bearing fruit.
YouGov BrandIndex data shows that Tesco has narrowed the gap with competitors on perceptions of trust, and there have been big advances in the effectiveness and distinctiveness of its advertising.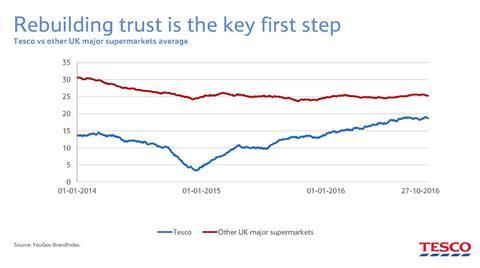 However, the journey is far from complete. For instance, when shoppers tested Tesco's products against a rival, its product was preferred when tested 'blind' but not when identified.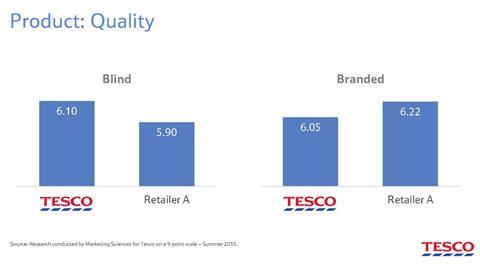 Bernstein analyst Bruno Monteyne says: "The products seem to taste much worse when consumers know it's a Tesco product. There is work to be done on the brand."
Tesco is 'maxing' the margin mix
UK and Ireland chief executive Matt Davies explained how Tesco is making changes to stores and operations that will propel the business on its mission to achieve a group margin of between 3.5% and 4%.
The retailer has looked at what, where and how it sells and adapted as necessary to better serve shoppers as profitably as possible.
He gave as an example changes made to its electricals offer, with a shift towards small domestic appliances – and away from the big ones, which demand explanation and service that Tesco is not best placed to provide in such a specialist way.
This has contributed to a lower overall market share in electricals, but Davies is "cool with that" because product margin in electricals is up.
He said the idea that big stores are a "relic of the past is absolutely not the case" – consumers prefer to shop under one roof when they can, so the objective is to enable them to do so; 54 big stores are now back in profit.
In small stores, the range has been reassessed – and cut by about 5% – so that they carry "the right offer" rather than being a mini version of a big-shed range.
Promotions have been changed so that multibuys feature more in big branches where large shops are conducted, while in c-stores they are being more tailored to convenience shopping patterns.
Of online, Davies said: "A big point I want to make is that we're channel-agnostic. What we're not going to do is allow different parts of the business to compete with one another and incentivise customers to shop in one channel rather than another – we are one Tesco."
Monteyne says: "This means reducing the use of vouchering, which did more to draw existing customers from stores to online than attract customers from competitors."
Tesco will fight unjustified price rises
Following the grocer's dispute with Unilever, Lewis's former employer, after the FMCG giant attempted to impose price rises on products such as Marmite in the wake of sterling's fall, Lewis signalled that Tesco would confront suppliers that demanded unjustifiable increases.
"I would ask companies to not ask UK consumers to pay inflated prices in order that their reported currency is maintained"

Dave Lewis, Tesco
Lewis said Tesco was not "naïve" about inflationary pressure and there are some "legitimate" cost rises, which Tesco would work with suppliers to try and offset.
However, he said: "I spent 28 years working for a multinational business and there are currency pressures.
"But multinational businesses present results in constant and reported exchange rates and the City understands that.
"I would ask companies in those positions to not ask UK consumers to pay inflated prices in order that their reported currency is maintained."
Tesco is creating value from property and optimising space
In 2016/17, Tesco intends to release £450m of value from property, and so far has saved or identified £176m per annum on rents.
The grocer aims to forge partnerships to redevelop premises and add flats above its stores, among other measures such as enabling complementary businesses to build on excess parking space.
Tesco's property plans were detailed by finance boss Alan Stewart, who said 15 large sites have been identified as suitable for redevelopment.
He envisaged 13 car park redevelopments over the next year and a similar number over the next few years.
The retailer is also working with retailer partners to improve the appeal of big stores and unload excess space. More Arcadia fashion concessions are to be introduced.
That follows a successful trial of Arcadia brands such as Burton and Dorothy Perkins. At present there are 14 such Arcadia concessions in five Tesco branches.
Concessions will be introduced in another four Tesco stores.
Internationally the retailer has similar arrangements with big retail names such as H&M and TK Maxx.
City analysts are impressed
Shore Capital's Clive Black says: "Tesco has come a long way from some dark days. From the chairman down, the group put its best foot forward, reminding us of the formidable human talent that is behind this business.
"It feels to us that there is a whole lot more to go for if this team stays together"

Clive Black, Shore Capital
"Much has been done and progress is reflected in the management's appropriate self-confidence.
"While uncertain as to where Tesco is precisely on the present business development cycle, it feels to us that there is a whole lot more to go for if this team stays together, a cycle that could be extended with new opportunities if the present priorities are delivered."