In January 2015, the VAT accounting rules for EU sales of electronic services such as music, books and games will change.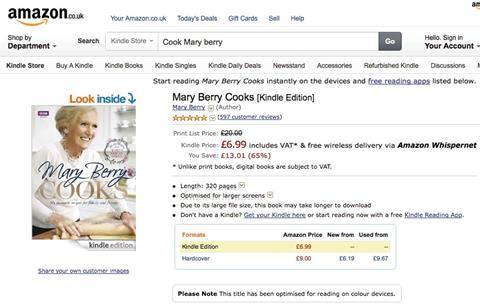 They are currently subject to VAT in the country where the seller is based, so UK vendors will charge UK VAT to EU consumers. Next year, VAT will be based on where the customer is resident.
Jason Craig, VAT partner at Deloitte, says: "Retailers could need to account for EU VAT in all 28 member states. They have two choices: either register for VAT in each country, or take advantage of HMRC's new Mini One Stop Shop accounting scheme."
Retailers need to build their systems so they know where their customer is located in order to account for the correct amount of VAT.
The changes could have a material impact on pricing and/or margins, as standard VAT rates can vary by as much as 12% across the EU.
The Mary Berry Cooks ebook, for instance, retails for £6.99 when downloaded from a Luxembourg-based online store (where VAT on ebooks is currently 3%).
From 2015, the 3% VAT rate would only apply to sales to Luxembourg-based customers. Sales to customers in other countries will be subject to their local VAT rate.
Craig adds that if retailers adopt a single pricing policy, VAT rate variation could have a major impact on profit margins. If a decision is taken to pass on the increased VAT cost to the customer to maintain a consistent margin level, Mary Berry Cooks, for example, would rise to £8.14 for a UK consumer.