Memories of recession seemed finally to have been banished in 2015 and consumers started to feel positive, according to key sentiment indicators.
GfK's long-standing consumer confidence index stayed in positive territory throughout 2015, rising to a 15-year high during the summer when confidence was at +7.
Asda's well-regarded income tracker, produced with the Centre for Business Research, told a similar story about discretionary income. Over the past 12 months the tracker has shown growth in the money left in people's pockets after essential items such as fuel, food and mortgage were paid.
The latest report showed the average UK household had £193 a week discretionary income in October, up by £17 a week, or 9.6%, year on year.
Reasons to be happy
There were lots of reasons for consumers to be happy in 2015.
Asda senior director of insight and pricing Liz Lamb says discretionary income has been rising because fuel, food and energy prices have fallen.
Fuel prices were down 14% compared with the previous year and Asda recently lowered its price for a litre of petrol to below £1 for the first time in six years.
"The income tracker figures endorse the approach we take to our fuel price cuts. They have a huge impact on the monthly family balance sheet so we'll always commit to having the lowest prices in the market," says Lamb.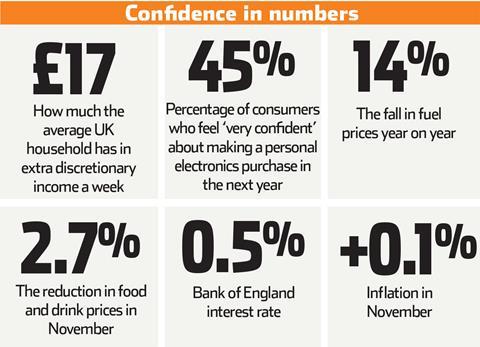 The UK's inflation rate, as measured by the Consumer Prices Index, was unchanged at -0.1% in October, according to the Office of National Statistics, and was only +0.1% in November.
The index was at close to zero throughout the year. Continued food and drink deflation helped consumers as they benefited from the fierce grocery price war. Food and drink prices fell 2.7% in November, according to the ONS.
By late 2015 home energy bills were 4.1% lower than in 2014, providing further respite for consumers.
Meanwhile, UK workers have received a pay rise. Average wages are increasing at the fastest pace for more than six years.
Average pay across the economy edged up 2.9% year on year in May to July, according to the ONS. Add that to falling unemployment rates – down to 5.3% in the quarter to September – and it is looking like a buoyant time for the UK consumer.
Spend or save?
There is some debate about whether this increase in confidence and disposable income translates to more spending.
According to Asda, people are saving rather than spending – 80% of those surveyed by the grocer set aside the additional cash.
"Despite the increase in discretionary income, customer confidence is still fragile. Christmas spending was set to be about the same as it was in 2014 with one in five planning to spend less and over two-thirds planning to spend the same," says Lamb. "I wouldn't say it is necessarily resulting in more spending but lower food and fuel costs are helping families put a bit more away, providing much needed security for households."
Despite the increase in discretionary income, customer confidence is still fragile

Liz Lamb, Asda
However, GfK's Consumer Life research, carried out in June, showed that shoppers in high spirits were more likely to buy.
When asked about their confidence in buying personal electronics (mobile phones, tablets, electronic readers), 22% of people surveyed were "not confident at all" about making a purchase but 45% were "very confident". For home electronics (TVs, computers, home entertainment), again more were very confident (40%) compared with 21% of shoppers who were not confident at all. It was a similar story in home appliances – 19% were not confident while 33% were very confident.
GfK's November index revealed that shoppers believed it was the right time to make a major purchase such as furniture or electrical goods. The indicator for major purchases was up 10 points year on year.
This suggested that lots of households would have been sitting on a new three-piece suite to watch Downton Abbey on an ever wider TV screen while digesting their Christmas turkey and all the trimmings, says Joe Staton, head of market dynamics at GfK.
Consumer optimism came in at +2 in December, according to GfK's index.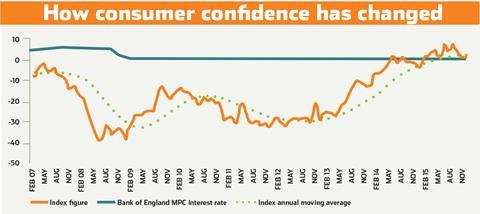 While the overall score meant 2015 was the first time the index had shown positive scores for an entire calendar year, December's measurement of confidence in the economy over the next 12 months at -6 was down one point on last year.
While the only one of five indicators to be down year on year, it suggests confidence is still faltering.
The rapid surge in discretionary income has also given way to a more steady rise since October, according to Asda.
Staton believes this is owing to concerns over the global economic and political landscape, which he says is what UK consumers have greatest concern about for the year ahead. "Our confidence in our own personal finances has remained strong but when we look at the wider world we get a bit worried," he says. "Greek debt, migration, terrorism and the possibility of conflict is dragging confidence down. We have no idea what will be happening on a global stage in six months' time."
Inflation predictions
Lamb believes discretionary income will continue to rise until at least the end of the first quarter, but it will be dependent on when the Bank of England raises interest rates.
In its most recent quarterly inflation report, published in November, the bank said the outlook for global growth had weakened, depressing the risk of inflation. Inflation was unlikely to rise to 1% until the second half of 2016 and it would be two years before it reached the 2% target, the report continued.
This led observers to predict there may not be an interest rate rise until mid-2017, continuing to encourage spending, especially by borrowers who tend to spend more of any spare cash they have than savers or lenders.
The credit crunch taught us a hard lesson. We see much more secured than unsecured lending these days

Joe Staton, GfK
However, Staton warns that consumers are not willing to unreservedly splash the cash. "We've lost that gene forever. The credit crunch taught us a hard lesson. We see much more secured than unsecured lending these days," he says.
Both Staton and Lamb believe the consumer is entering the new year in a better place than last year. If employment remains stable and fuel costs and inflation stay low, it might well persuade them to put their hands in their pockets.