Big changes in the way people shop will have a major effect on how consumers splash their cash in 2016. So how will consumers spend their money?
How will people spend their money in 2016? If last year offers any clues people will be sinking more craft ales, puffing on more e-cigarettes and subscribing to more music streaming services – all of which were items added to the Office of National Statistics' Consumer Price Inflation typical 'basket of goods'.
Consumers have been slurping far fewer yoghurt drinks, munching less often on frozen pizzas and shouting at fewer sat navs – items that were ejected from the basket owing to their declining popularity.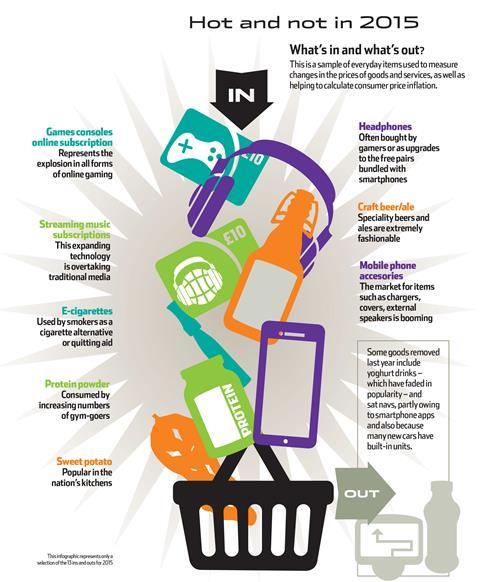 In some cases, the basket simply reflects the latest fads and fashions – how else can one explain the addition last year of the humble sweet potato? But in other cases it points to a fundamental shift in the way people shop. Sat navs, for instance, are almost obsolete because of smartphone apps that fulfil the same function at a fraction of the cost.
That change in particular is representative of a wider trend that shaped how people shopped in 2015 and will remain an influence over the coming 12 months.
It is of course the growth in the use of mobile devices for all sorts of things, including shopping. "We all know that the growth of mobile device use for shopping has shot up massively in a short space of time, but 2015 was notable for increasing confidence in using these devices," says Andy Mulcahy, editor at IMRG, the online retail association. "For the period January to October conversion rates on smartphones were up 23% year on year, while conversion rates on tablets were up 17% year on year over the same period."
This evolution of mobile devices from predominantly research tools to important transactional channels in such a short space of time has huge implications for retailers.
We would expect to see more growth for retailers where omnichannel delivery excels

Phil Dorrell, Retail Remedy.
"Those prepared to rethink their touchpoints afresh are most likely to tap into the real potential, whereas those trying to adapt existing systems to cope with the growth of m-commerce will struggle to offer the 'connected' world that shoppers are expecting," says Danielle Pinnington, founder and owner of shopper research agency Shoppercentric.
While predicting continued growth in mobile and online sales is the safest bet, anticipating where that spend might land is a tougher task.
"Pure-play retailers will see steady growth but we would expect to see more growth for retailers where omnichannel delivery excels, and customer service and brand play a more significant role," says Phil Dorrell, partner at consultancy Retail Remedy.
In-store technology – the rise of the shop bot
Every year, advances in technology change the way people shop and 2016 will be no exception. One example is the gradual shift away from direct human interaction in the physical retail environment. Experts believe that automation will continue to play a more central role in stores.
"The technology now exists to offer shopping without a staffed checkout, including paying by phone," says James Walton, IGD's chief economist. "Some supermarkets are already experimenting with stores that have no human checkout."
The natural extension of unstaffed checkouts is the introduction of robots in store. "Rising labour costs and cheaper, more capable technology may lead to greater use of robotics," says Walton, who points to DIY chain Lowe's introducing OSHbot customer service robot into stores as evidence of a trend that is already taking root in the US.
Convenience shopping
The consumer shift towards convenience shopping, rather than a routine weekly shop, is one important trend that is likely to result in the development of new store formats in 2016, particularly in the grocery.
"This year the evidence that the superstores were in decline really became incontrovertible," maintains Mintel's director of retail research Richard Perks. "I think we are going to see retailers experimenting more with different styles of superstore retailing because they need to come up with more ways of attracting people to these stores."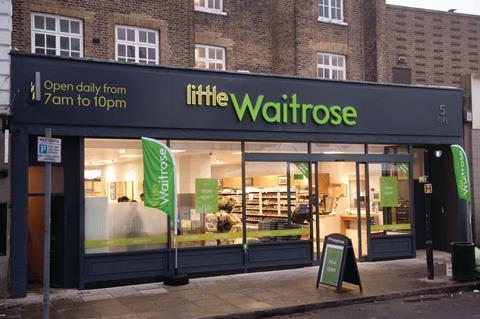 James Walton, IGD chief economist, believes new formats are likely to include "micro convenience stores of about 1,000 sq ft" as well as more experimental stores "that seek to blur the boundary between retail and food service" as retailers look to capitalise on the growing consumer trend for eating out of home.
In food, Dorrell believes retailers that deliver a successful everyday low pricing strategy, where the customer knows what their shopping will cost, will continue to do well.
"Promotions will continue to play a less significant role in the supermarket calendar but it will be a gradual decrease to allow the grocers' and suppliers' business models to be recalibrated," he says.
Discount decisions
The consumer desire for a bargain is as old as trading itself, yet the expectation of the modern shopper is that the next Sales event should lie around every corner. Partly this has been fuelled by promotions such as Black Friday which, according to Mulcahy, has cemented in shoppers' minds the idea that heavy discounting periods will occur during peak trading.
"It raises questions over how the value of a product is perceived by shoppers and potentially has highly significant implications for retailer margins," Mulcahy says.
Retailers will have a big decision to make next year on whether or not to engage in such events.
No crystal ball is needed to predict that the way in which people spend their money in 2016 will not be entirely in the hands of retailers. External factors, as ever, will have a major influence on the market.
The prospect of interest rates finally rising and another crisis in the Eurozone are cited by Perks as macroeconomic factors that could have a knock-on effect on consumer spending in the UK.
Walton observes that while the national living wage will put more money into the pockets of working people, meaning more disposable incomes and higher confidence, there will be significant implementation costs across the retail sector's complex supply chains.
We would not be surprised to see footfall to city centre shopping destinations fall year on year as the public assesses the risk of attacks

Phil Dorrell, Retail Remedy
And what of the greatest risk of all, the threat of terrorist attacks on London or other cities? "We would not be surprised to see footfall to city centre shopping destinations fall year on year as the public assesses the risk of attacks," says Dorrell. "Terrorists have proven to be indiscriminate in their targets and a real threat lies over Britain, certainly in the foreseeable future."
With so many unknowns hanging over the sector, retailers will need to be on top of their games if they are to make 2016 a year to remember.